11-year-old seeks place in Guinness as tallest 6th-grader
Share - WeChat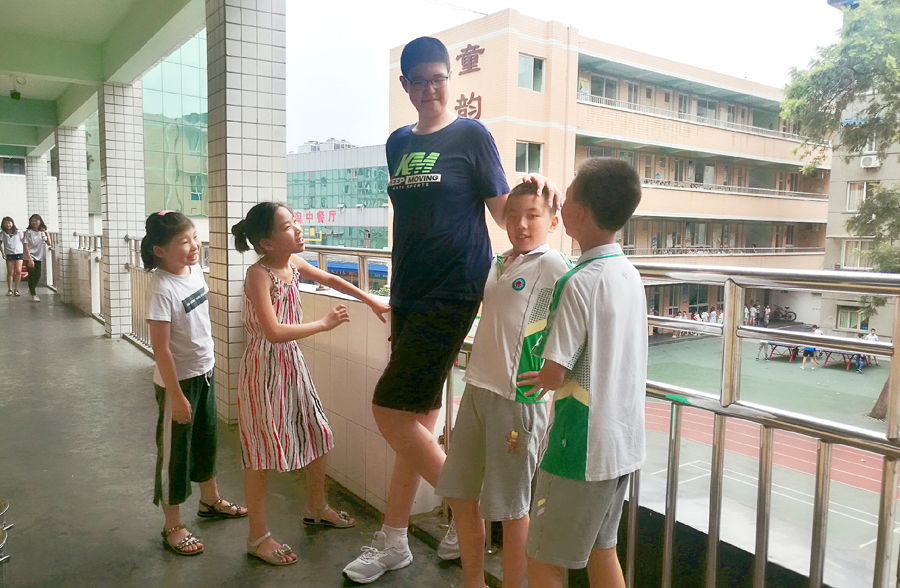 An 11-year-old student in Leshan, Sichuan province, is more than 2 meters tall and wonders if he is the tallest sixth-grader in the world.
He says he wants to apply for a Guinness World Record if he is, but his family hasn't moved forward because they don't know how to do it, according to the boy's grandmother, Wu Mei.
Ren Keyu, a pupil at a primary school in downtown Leshan, is well known at his school because he is 2.06 meters tall and towers head and shoulders above his classmates.
Wu said her grandson has been taller than his peers ever since kindergarten.
"He was about 1.3 meters tall when he attended kindergarten. Doctors suspected he might have gigantism. But several physical checkups showed his growth hormone level and pituitary gland were normal," she said.
She thought Ren's height might have something to do with the family's genetic code.
Ren's grandfather is more than 1.9 meters tall. His deceased mother was also more than 1.9 meters tall. His father, a migrant worker, is more than 1.8 meters tall.
As a kindergarten student, Ren felt it was a privilege to be tall.
"The teacher would place apples somewhere high in the cupboard. I was tall enough to get apples to eat," he said.
But soon he saw the other side. Other people sneered, asking how such a tall boy could be in kindergarten.
"He dreamed of leaving kindergarten and starting school as a regular student," Wu said.
When Ren is in the street, people stare at him out of curiosity, which makes him feel even more awkward. When he was 10, a schoolmate said being tall meant being silly. He was so offended that he locked himself in his room, shouting: "I hate being tall!" his grandmother recalled.
Ren's primary school teacher Xu Hong said Ren is an ordinary child except for his height.
"He has merits and shortcomings. He is naughty but studies hard. He once got the highest score on the Chinese examination in his class," said Xu, who remembered the first time Ren entered his classroom.
"I mistook him for a student in a higher grade and asked him to go to his own classroom," Xu said.
To accommodate Ren, she had an extra-large table and chair made for Ren - twice.