10 executed for series of drug crimes
Share - WeChat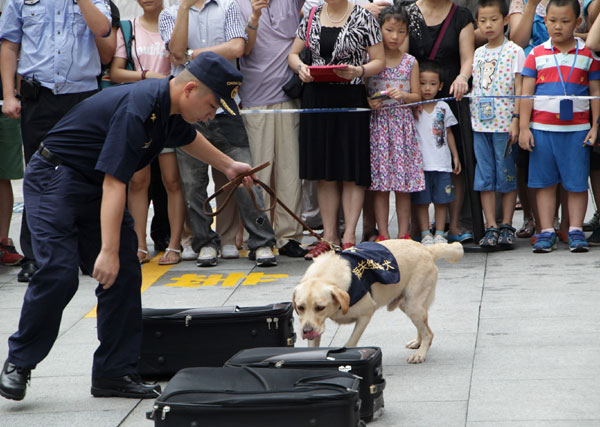 Appeals court affirms convictions; Supreme People's Court approves
Ten drug traffickers were executed in Guangdong province on Saturday after an appeals court upheld their earlier conviction and pronounced sentence. The executions were approved by the Supreme People's Court.
Fan Shuixian and nine others were put to death shortly after the Shanwei Intermediate People's Court in Lufeng delivered its decision. The court had already affirmed their convictions in a lower court for producing, owning, trafficking and selling large amounts of illicit drugs.
The sentencing hearing was public. Lufeng is a city under the administration of Shanwei in eastern Guangdong.
Fan was also found guilty of illegally possessing weapons and of illegally extracting about 50 kilograms of drug components from 75 metric tons of ephedrine from September to October 2012.
"Fan earned 1.1 million yuan ($172,000) from selling the ephedrine he extracted, and later mixed 16.4 kilograms of methamphetamine, commonly known as ice, with his ephedrine," the court said.
Police seized 16.4 kg of meth and 33.2 kg of semifinished meth, along with five guns and 126 rounds of ammunition when they raided Fan's drug den and detained him at the end of October 2012.
Others executed on Saturday were Cai Jinxiong, Chen Jinjun, Fan Zhongchao, Hong Liu, Huang Wenze, Cai Chugang, Wu Shenggeng, Li Zhenyu and Zhuang Chengfa. All were convicted of illegally producing, owning and trafficking large amounts of illicit drugs.
A police officer who did not want to be named said the execution of the 10 would help deter others and further promote the anti-drug campaign in Shanwei, once a major meth production base in Guangdong. Meth synthesized in Lufeng once represented more than half the country's total.
Guangdong has been on the front line of China's war against illicit drugs for decades.
This month, Guangdong police announced the shutdown of a number of cross-border drug trafficking channels and distribution centers after a crackdown that handled 4,655 drug offenses and related cases in the first five months of this year.
According to Lin Weixiong, deputy director of the Guangdong Public Security Department, police seized more than 5.4 tons of narcotics between January and May - 5.1 tons more than in the same period last year.
Meanwhile, police detained 5,504 suspects, including suspected foreign drug traffickers, "dealing a heavy blow to drug offenses and related crimes in the province", he said.
In nine operations from Dec 24 to June 5, police in the cities of Foshan, Shenzhen, Dongguan, Jieyang and Shanwei busted a major cross-border drug gang, detaining 39 suspects - including 16 Vietnamese and a Taiwan resident - and seized 4.79 kg of methamphetamine.
Lin said the Guangdong police will continue their zerotolerance policy toward illicit drugs and related crimes, and promised more campaigns in the months ahead.