B&R enhances win-win partnership between China, Europe against global uncertainties
Share - WeChat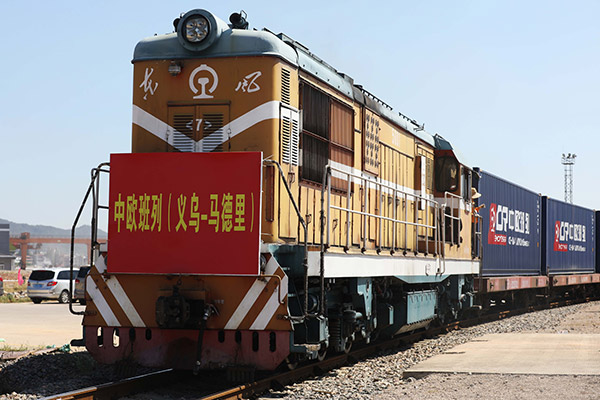 BERLIN - German engineering company Siemens, whose history in China dates back to more than 100 years ago, inked over 10 agreements with its Chinese partners earlier this month to fully explore opportunities unleashed by the five-year-old Belt and Road Initiative.
Siemens CEO Joe Kaeser based the decision on the conviction that the China-proposed initiative creates opportunities in practically every sector and has the potential to improve the lives of 70 percent of the world population.
Siemens was among a string of European companies that have been strengthening their ties with China. The CEOs are aware that win-win partnerships, such as those under the umbrella of the Belt and Road Initiative, are the most effective way to fight against a growing tide of isolationism and protectionism.
Landmark movement
"It's a landmark movement that represents a 1 trillion euro () investment in infrastructure in about 90 countries, regions and beyond," Kaeser said during his trip to China last week, where he witnessed the signing of the agreements.
"The current geopolitical constellation and the Belt and Road Initiative are changing China's role in the world - not just strategically but also economically," the CEO said.
For more than two decades, Siemens has been joining forces with over 100 Chinese companies in more than 100 countries and regions.
An invitation has been extended to the rest of the world to take part in the initiative, the company said.
Proposed in 2013, the Belt and Road Initiative is a grand infrastructure and trade project aimed at connecting Asia with Europe and Africa along ancient Silk Road routes. It comprises the Silk Road Economic Belt and the 21st Century Maritime Silk Road.
In Yiwu, a city of about 1.2 million people in China's eastern Zhejiang province famous for its small commodity trade and vibrant market, Spanish company Laboratorios Ynsadiet plans to open its Chinese office.
"Actually we didn't know much about Yiwu at first," said the healthy products company's sales manager Roberto Bullido who visited Yiwu recently.
The Yiwu-Madrid Express train has brought the company closer to the Chinese city, Bullido said. "We found Yiwu in an excellent condition for our office: its location, its transportation network, its highly developed market, and its express train that connects us with China."
To Spain as well as other European countries, China Railway Express (CRE) not only is a transportation connecting China with Europe in a more stable and efficient way, but also produces fresh opportunities for both sides.
Duisburg, a western German city in North-Rhine-Westphalia's Ruhr area, has become an important CRE slot. It witnessed fruitful results of the Belt and Road Initiative over the past few years and harvested its own urban economic growth.
Thomas Heberer, a renowned German professor, said that to a transforming city like Duisburg, the Belt and Road Initiative means a way out and hope.
Long-term strategic importance
At the beginning of the year, a Chinese consortium led by China Road and Bridge Corporation won the bid for the construction of the first phase of Peljesac Bridge and its access roads, a major infrastructure project in Croatia.
"The project is of long-term strategic importance to the whole country," said Croatian Prime Minister Andrej Plenkovic at the signing ceremony on April 23, adding that it would help Croatia become territorially integrated.
"I believe that this project will put a lot of substances in excellent relationship that we already have between China and Croatia, and this is a concrete economic contribution," the prime minister told Xinhua.
Oleg Butkovic, the Croatian minister of sea, transport and infrastructure, called the construction of Peljesac Bridge "the number one" project in Croatia.P In Spain, the Foreign Ministry highlighted the Belt and Road Initiative in its "A Strategic Version for Spain in Asia: 2018-2022," regarding the initiative as a great opportunity to connect profoundly with the promising Asian market.
When meeting with Chinese State Councilor and Foreign Minister Wang Yi on May 17, King Felipe VI of Spain said the initiative is of great significance to regional and global development and prosperity, and Spain will participate in it more actively.
In Poland, Chinese company Guo Tai Hua Rong, one of the world's three largest providers of electrolytes for lithium-ion batteries, plans to build a factory for its flagship product in the southwestern village of Godzikowice, its latest achievement under the framework of the Belt and Road Initiative.
"The factory project in Godzikowice of the Chinese investor is an element of the strategy of supporting the development of the electric vehicle industry in our country," said Krzysztof Senger, vice president of the Polish Investment and Trade Agency.
According to Senger, in the longer-term perspective, the project will translate into increased popularity of electric vehicles on Polish roads and consequently a major improvement in its air quality.
More important than ever
The partnerships between Chinese and European companies have become ever more important in today's world where long-standing agreements and alliances are being challenged as isolationism and protectionism are on the rise.
Referring to unfair trade allegations here and there, Siemens' Kaeser said "this is a game that no one can win, and it's not good for the No 1 and No 3 exporting countries of the world, China and Germany respectively."
There is sometimes when a lack of competitiveness is confused with unfair trade allegation. The right answer to the lack of competitiveness is innovation and productivity.
Shan Jing, business development manager of Far East Land Bridge Ltd (FELB), believes that more trains will run between Asia and Europe.
"More countries, railway terminals, seaports, industry areas, logistics centers will be connected, a strong supply chain network which based on China Railway Express across Eurasia countries is forming up," he said.
More international companies like Siemens and BMW will benefit from China's sustainable and environmental-friendly railway service in the future while a rise in global protectionism is becoming increasingly a threat to supply chains and business environment, Shan said.
"The CRE is already integrated into European Railway Network, it is not only commodity exchange but also culture, technology and experiences exchanges. CRE will be an important infrastructure to promote globalization and will generate a lot of new opportunities," he said.
Cedrik Neike, member of the managing board of Siemens AG, has said the Belt and Road Initiative is "the most relevant infrastructure project of our times."
"The great thing about Belt and Road (Initiative) is that it is an inclusive project that is open for participation," Neike said. "We are already participating and we expect more opportunities for in-depth cooperation."