Boosted by Belt and Road Initiative, spread of TCM speeds up
Share - WeChat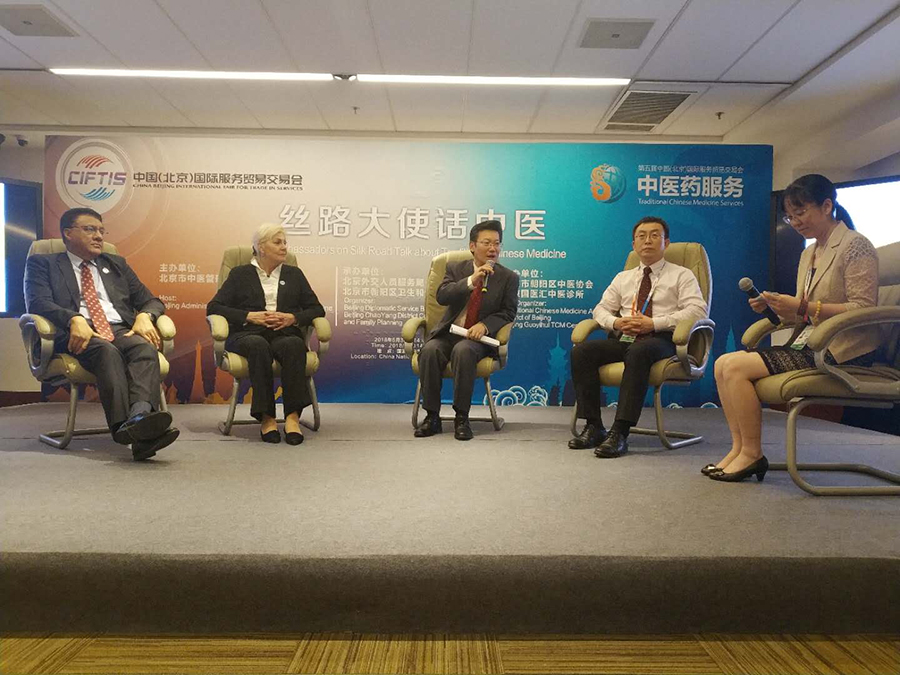 Painkillers might be the standard choice for many suffering an ache, while regular injection of insulin might be considered a safe option for diabetes patients and those having fertility problems have only a few options, including drugs, surgery and in vitro fertilization.
However, for traditional Chinese medicine (TCM) practitioners, painkillers never kill the pain as they only temporarily stop the signal that there is something wrong with the body being sent to the brain and insulin offers little help in restoring balance to a patient's body. In addition,there are many ways, including herbs, to improve one's reproduction system so that the body is suitable for sustaining a new life.
Although TCM has proven to be effective in curing diseases or relieving syndromes, there are still many obstacles for people worldwide to enjoy this China-originated service, including cognitive obstacles and legal obstacles.
However, things could be gradually changing especially for people living in countries involved in the Belt and Road Initiative as traditional Chinese medicine is spreading in a more visible way in these countries.
Ma Liangxiao, a doctoral supervisor for foreign students learning acupuncture at Beijing University of Chinese Medicine, told China Daily on the sidelines of the China Beijing Fair of Trade in Services on Wednesday that spread of TCM was more an activity taking place between TCM practitioners living in or outside China and their patients who sought alternative therapies, but the Belt and Road Initiative has offered a cooperative framework for intergovernmental cooperation, which will definitely help remove the largest barrier, the legal barrier in TCM qualification, TCM education accreditation, drug access and medical insurance.
During the fair, the Beijing Administration of Traditional Chinese Medicine signed an agreement with Russian officials to launch a TCM action plan for 2018-20 between Beijing and Moscow. Under this plan, the two sides will establish a TCM international system through intergovernmental cooperation to advance bilateral trade in TCM services.
At the fair, which ran from May 28 to June 1, the European TCM Development and Promotion Center, a signature project under the Belt and Road Initiative headquartered in Hospitalet, the second-largest city in Barcelona, Spain, promoted its TCM industrial park, which will include a TCM Clinic Health Management Center, an education and training center and a service trade center. The center also showcased its achievements so far, including an EU-recognized master's degree program undertaken by Beijing University of Chinese Medicine, University of Barcelona and Universitat of Pompeu Fabra and a TCM diagnosis and treatment center located at Clinical Hospital of Barcelona.
On May 28, the State Administration of Traditional Chinese Medicine of China disclosed 57 TCM international cooperation projects for the year 2018 on its website, which are for the implementation of the TCM Belt and Road Development Plan (2016-2020). These projects include the China - The United Arab Emirates TCM Center, the China-Germany TCM Center, the China-Poland TCM Center and the China-France TCM Center (Paris). The administration also estimated the worldwide trade in TCM services, including clinic treatment, education and training, and health tourism, to be at about $50 billion.
Traditional Chinese medicine has become an important area of health and trade cooperation between China and the ASEAN, EU, Africa, and Central and Eastern Europe, said Wu Zhendou, vice-director of the international cooperation department of the State Administration of Traditional Chinese Medicine of China.
Wu told participants at a sub-forum of the Beijing fair, themed as the Ambassadors on Silk Road Talk on Traditional Chinese Medicine, that TCM has spread to 183 countries and regions around the world. He added that 103 member states of the World Health Organization have given approval to the practice of acupuncture and moxibustion, while 18 have included them in their medical insurance provisions.
Chinese medicines have gradually entered the international system of medicines, and some of them have been registered in Russia, Cuba, Vietnam, Singapore, United Arab Emirates, and other nations, he said, adding that some 30 countries and regions have opened a couple of hundred TCM schools to train local TCM workers.
Eugenia Bellova said at the forum that being a western medicine doctor and also wife of ambassador of Slovakia to China, she can see that there is no other country like China which is ready to export its medicine and that the Belt and Road Initiative has offered hands to smart countries and smart countries have shaken hands (with China). She added that in addition to this offer, China is also ready for medical cooperation and she is in the right place to establish more bridges between the two countries.
Bellova, who still runs a clinic in Slovakia, said many patients are very interested in the effects of TCM as some western medicine doctors have already included TCM therapeutical ways including acupuncture, moxibustion and cupping in their practice. She added that the Slovakian medical authorities come to Tianjin University for exchange programs every year.
Beijing University of Chinese Medicine's Ma said that it's a trend now to train western medicine practitioners on TCM as this will overcome the problem of legality in TCM treatment and will also makes TCM a little easier to understand.
"Whether it is western medicine or Chinese medicine, the medicine is for the human body, the structure of which is the same worldwide. The TCM service originating in China should be enjoyed by people all over the world," Ma added.
Bellova said she was very curious at how western physiology and eastern physiology would work together when she first learned the eastern physiology.
"I think now we should look at having a deeper, clearer understanding about what traditional Chinese medicine really is because in Cabo Verde, my country, we are very interested in having Chinese traditional medicine in our country for the benefits of our people," said TaniaRomualdo, ambassador of Cabo Verde to China, Cabo Verde is an island country which spans an archipelago of 10 volcanic islands in the central Atlantic Ocean.
According to Ma, the core of TCM is harmony, moderation and balance. Harmony between the human body, nature and the society is valued under TCM theories. Moderation refers to a way in coping with things and doing things in a middle way and this is considered beneficial for one's health while balance means health in TCM as all TCM methods aim to restore the balance in a patient's body to make it more healthy.