High-tech leads foreign direct investment growth
Share - WeChat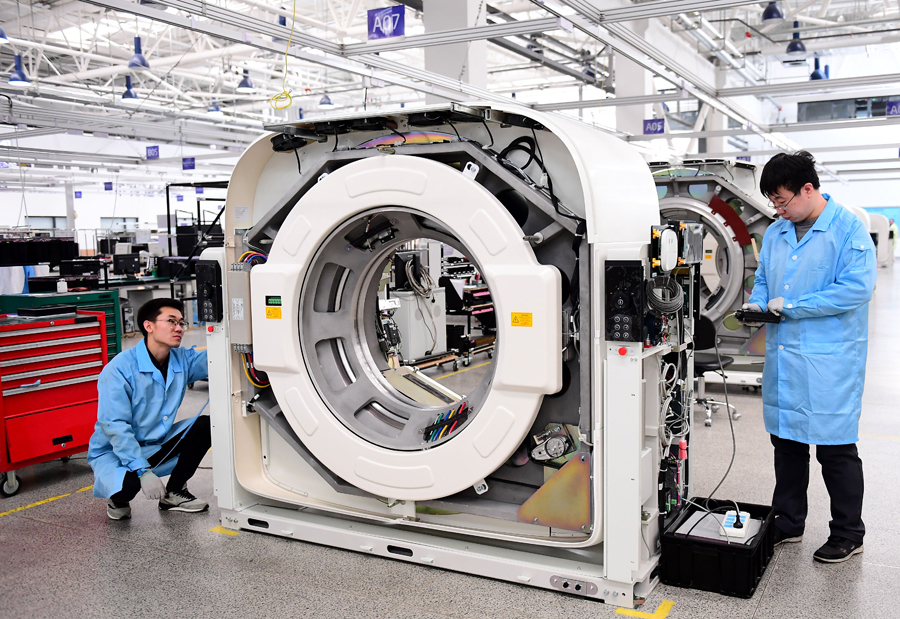 Overall rise stable while the medical equipment sector increases fivefold
China's high-tech industry saw growing capital inflows in the first four months of 2018, with a significant increase of foreign direct investment in the country's medical equipment manufacturing sector in particular.
Ministry of Commerce data show national FDI remained stable from January to April, increasing 0.1 percent year-on-year to reach 286.7 billion yuan ($44.92 billion). The number of newly established foreign invested companies soared to 19,002, up 95.4 percent year-on-year.
The medical equipment manufacturing sector increased fivefold year-on-year in the first four months. In the January to February FDI report, the annual growth rate was 321.8 percent, with investment speeding up in the next two months. Behind that soaring growth is the high market potential of the world's second-largest high-tech medical equipment sector and the gradual relaxation of foreign capital restrictions.
According to Shenzhen-based ASKCI Consulting Co Ltd, the domestic medical equipment market saw a compound annual growth rate of 19.67 percent from 2010 to 2016. FDI in the sector rose from 126 billion yuan in 2010 to 370 billion yuan in 2016. ASKCI's estimate for 2017 put FDI at 448.4 billion yuan, with further growth yet to come.
Wang Baoting, an official of the China Food and Drug Administration, predicted that in the following decade the market will grow by at least 10 percent every year, topping 700 billion yuan by 2020.
This market environment has benefited medical device manufacturers such as Siemens Healthineers, which launched its IPO on the Frankfurt Stock Exchange in May. According to Siemens AG's 2017 annual report, Siemens Healthineers was the group's most profitable subsidiary that year. Over half of its revenue came from the Chinese market, particularly from its medical imaging and diagnosis equipment.
The central government is offering favorable policies to facilitate further investment in the future. Last year, Tang Wenhong, director-general of the Department of Foreign Investment Administration of the Ministry of Commerce, said that in 2018 the ministry will ease foreign investment market access in certain areas, such as medical care.
Regional governments are also following the call for further opening-up in the sector. In March, Hainan announced it will allow foreign companies easy access when importing medium and relatively high-risk medical devices into the island's pilot medical treatment and tourism zone.
The Shanghai Free Trade Zone has also vowed to further open up the high-end medical devices sector to foreign investors.
"Shanghai sincerely welcomes and encourages foreign investors in high-tech manufacturing sectors," said Shi Wenjun, a senior official of the Shanghai Municipal Commission of Economy and Informatization. He said such sectors include biopharmaceuticals and medical devices.
The zone will become home to a foreign-invested hospital next year, funded by Germany-headquartered Artemed Group.
"Medical devices are the trump card of the foreign-invested hospital," said Zhang Jiarui, who is responsible for the early stages of the hospital's preparation. "Favorable tax policies in the Shanghai FTZ will bring down costs and benefit residents."
Since 2017, many overseas medical giants have increased their investment in China. For example, Johnson& Johnson invested $180 million in Suzhou, Jiangsu province, in November to build a new factory that is scheduled to start operation in 2019.
"The market growth rate in medical devices in the next five to eight years will outpace GDP growth," said Jin Yi, a partner at Roland Berger, an international consulting firm. "International corporations are choosing to build their factories here to better seize the opportunities."
Although the market is promising, foreign conglomerates are increasingly competing with their rising domestic counterparts.
"The mass entrepreneurship and innovation campaign championed by the Chinese government has led to the rapid rise of homegrown companies, and thus increased market competition as well as more options for consumers to choose from," said Andy Ho, CEO of Philips China. "The drive has also added vitality to the market, turning China into a global magnet for capital, technology and talent."