Shutterbug techies to explore corner of China
Nine US photographers, most of them engineers at leading high-tech companies in Silicon Valley and newcomers to China, will embark today on a 10-day discovery adventure to Wuhan, Hubei province.
The event - Wuhan Stories: Through the Lens of American/Chinese Photographers - is designed to start collaborations between US photographers and their Chinese counterparts, to let cameramen capture the vibe, vitality and appeal of Wuhan, and later share their work through two joint exhibitions in June and October.
It has been almost 40 years since China launched its reform and opening up, said Song Min, president of the US-China Culture and Communication Association, which organized the cross-border exchange.
"Earth-shaking transformation has taken place throughout China in the past four decades. Wuhan is no exception," Song said. "How great it would be if more foreigners, such as the American people, could know more about the 40 years of success stories in China."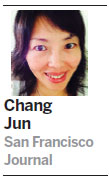 Song and his avid photographer friend Yu Runxiang, who is a hardware engineer and also founder of a photo club in Silicon Valley, spent a few months brainstorming an event that would utilize the expertise of American photographers to display an authentic and vivid Wuhan through foreigners' perspectives.
"In other words, their types of storytelling will decode China's reform and opening up," Song said.
They recruited delegates through platforms like Facebook and Google employee email groups.
"Many interested inquiries flooded in and we carefully filtered candidates based on their photography skills," said Yu. "The Wuhan photo trip will give us the opportunity to share our skills and ideas together as photographers, and go to a different country to explore together."
For many, this will be their maiden trip to China.
Italian Francisco Carucci, a game developer at Google, said he did not know much about China's reform and opening up, nor of the city of Wuhan either.
"I'm thinking about shooting the first photo when I land in Wuhan, a photo by someone who has never been to China," he said.
Charles Santora, a sourcing manager at Facebook, thought it was a "great opportunity for me" as soon "as I read the post." Being selected as one of the nine-member team, the 49-year-old admitted he barely knew China.
"I know very little about China," he said. "I look forward to learning more about its country and people when I'm there."
"Hopefully we can realize that no matter what people think and what the media says, we (the American and Chinese peoples) are not that far apart because we all have common goals. A project like this will help us better understand each other and unify," he said.
Valerie Francisco, a 27-year-old tech recruiter at Facebook, is the only female photographer on the team.
"This is the first time that I'm going to China," she said. There's "a lot to see and lot to learn."
On May 25, the US delegation will arrive at Huangpi district in Wuhan to officially kick off the shoot at the birthplace of China's legendary female warrior Mulan, who disguised herself as a man replacing her father to fight in the army and who also became Disney's first Chinese "princess."
Photographers will then travel to Wuhan Donghu New Tech Development Zone, often referred to as China's Optics Valley, to focus on its advancement since its start in 1988.
Selected photos from the trip are to be displayed on June 2 at Zall Art Gallery in Wuhan, followed by another exhibition in October in Silicon Valley.
Contact the writer at junechang@chinadailyusa.com.