Inbound tourism still rising
Share - WeChat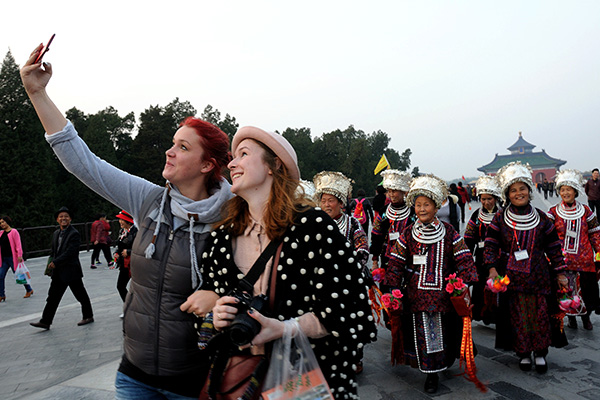 Inbound tourism to the Chinese mainland has registered a small increase in the past year, but some substandard domestic travel services and the world's political and economic environment are slowing its development, Dai Bin, president of the China Tourism Academy, said on Tuesday at a summit focused on inbound tourism.
Tourists bound for China in 2017 reached 139 million, only 0.8 percent above the 2016 mark, with foreign visitors making up 20 percent of that-a year-on-year rise of 3.6 percent, according to a report released in February by the national tourism authority.
A relatively tight visa policy, high visa expenses and environmental concerns deter many visitors, Dai said.
But he remained optimistic about the future of China's inbound tourism, as there are many possible ways to expand the market.
"The growth-the increase of 0.8 and 3.6 percent-may not be that significant compared with the growth of the outbound tourism market," Dai said, "but it's the third consecutive year of positive growth since we were hit by the Asian financial crisis, SARS and the global financial turbulence in the 1990s."
Dai added that technologies and cultural industries have dramatically changed the landscape of China's tourism industry, which he said is likely to serve the development of tourism.
More culture-related tour packages codeveloped by travel agencies and high-tech companies will be available at domestic travel destinations to help improve tourists' travel experiences and boost the development of inbound tourism, he said.
Li Chuangxin, a researcher at the academy, said: "China plans to build the country into a tourism power in the next 15 years. Inbound tourism, which is regarded as a key indicator measuring the nation's competence in the sector, will be further stressed."
He said that travel agencies should draw on the country's rich cultural and natural resources to develop competitive travel products and establish a comprehensive promotion system.
"Transportation systems, including airlines and high-speed railways, are also important," he said. "It's also necessary to simplify visa application procedures to lure more tourists from foreign countries."