Egyptians dote on lanterns to light up Ramadan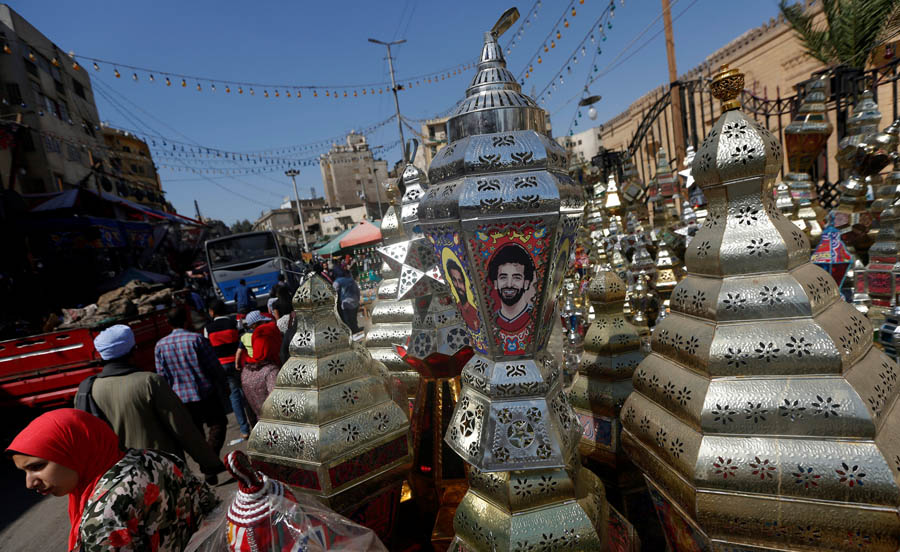 CAIRO - Ahead of the holy Islamic month of Ramadan, Egyptians flock to local markets to purchase colorful lanterns, known as fanoos in Arabic, for their children or to use them as ornaments for homes and workplaces.
For them, buying fanoos is almost a must as it has been a tradition for centuries.
The lanterns, mostly handmade, garnish the streets and narrow alleys of Egyptian cities during Ramadan, which starts on Thursday.
During the month, Muslims abstain from eating, drinking, smoking and conducting sexual relations from sunrise to sunset.
In Cairo, buying a good lantern is worth a wearisome visit to the overcrowded market in Sayyida Zainab neighborhood, the city's largest lantern bazaar.
Despite this year's notable hike in prices, Egyptians of all walks of life were buying the lanterns.
"I'm looking for good-quality and cheap lanterns for my four grandchildren," Reda Mohammed, a woman in her late 50s, said as she entered a large store.
The fanoos originated in Egypt during the Fatimid caliphate hundreds of years ago, when they served to light dark streets but later became traditional children's toys on Ramadan evenings.
"Ramadan is always a happy month for old and young.... Children feel extremely happy when they tour around the neighborhood with their lanterns after the Iftar (breakfast) meal," she said.
Over the past decade, Egyptian merchants imported plastic technology-based lanterns from China.
But the practice has almost stopped in the past two years due to the dollar hike against the Egyptian pound, as well as the declining economic conditions for most Egyptians.
"Homemade metal and glass lanterns sell well," said lantern seller Farid Shawki. "Their prices have gone up compared to last year, but they are still cheaper than the imported ones."
Lantern makers are always keen to present new styles and shapes every year to attract shoppers who already have older ones they bought in previous years.
This year, the shape of lanterns did not change much, but a new style with images of Egypt and Liverpool soccer star Mohamed Salah has gone viral this season.
"Salah is an iconic figure in Egypt and most Egyptians see him as a national hero. ... This led lantern makers to put his images on the lanterns to sell more," Shawki said, adding that most of the lanterns he has sold so far were those with Salah's photos.
At the entrance of another lantern store at the same market, Manal, a 35-year-old housewife, bought a large Salah lantern for her home.
"Salah's fanoos will double the happiness," she said as she held the lantern. "Salah always makes us happy and having his photos on a Ramadan lantern will make the family much happier."
Xinhua