Hanergy lights up Africa with solar energy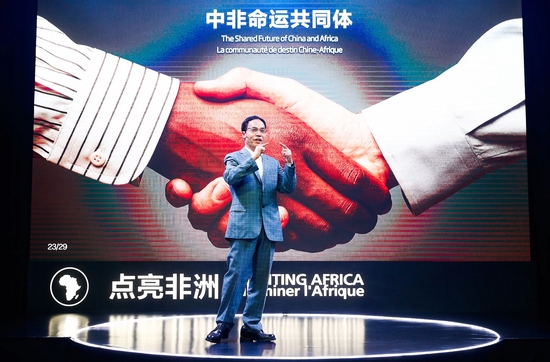 Hanergy Thin Film Power Group Ltd launched the corporate social responsibility project called "Lighting Africa" by donating its new umbrella-shaped thin-film solar product, Humbrella, in Beijing on Friday.
Li Hejun, chairman of Hanergy Holding Group, announced the donation of the first batch of Humbrella worth more than 1 million yuan to Africa through the China NGO Network for International Exchange at the launch ceremony.
With 880 million people living in insufficient electricity, power shortage has become an important factor that restricts the development of Africa.
"We would like to contribute to the development, especially in the field of public welfare in Africa with our advantages in the thin-film solar technology and mobile energy solutions," Li said.
"We hope the Humbrella can light up lives of many Africans and the mobile energy can facilitate the future development of Africa."
Weighing only 8.8 kilograms and a diameter of 2.7 meters, Humbrella is covered with thin-film solar panels, which is available for power generation in both sunny and cloudy days.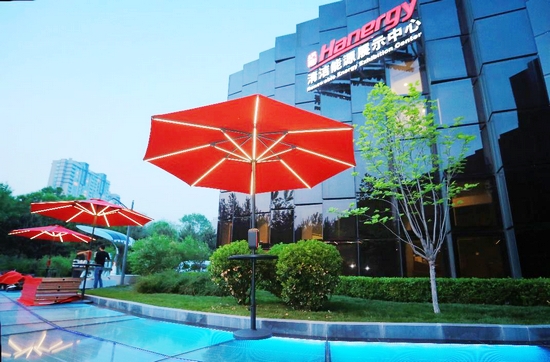 Integrated functions of off-grid power supply, electricity storage, night lighting and terminal charging, the newly unveiled product is expected to store as much as 40000 mAh electricity, ensuring a 10-hour high-quality reading time for children, or charging more than ten 3000mAh smartphones.
Hanergy also promised to donate $1 for public welfare with each sale of a Humbrella.
Founded in 1994, Hanergy runs the largest private-owned hydropower station in the world and has become a global leader of thin-film solar power generation.
Hanergy Thin Film Power Group Ltd, the conglomerate's Hong Kong-listed arm, released the second generation of its flagship product Hantile, a thin-film solar tile combines flexible solar panels with high-transmittance glass two weeks ago.