Russian State Ballet to bring classics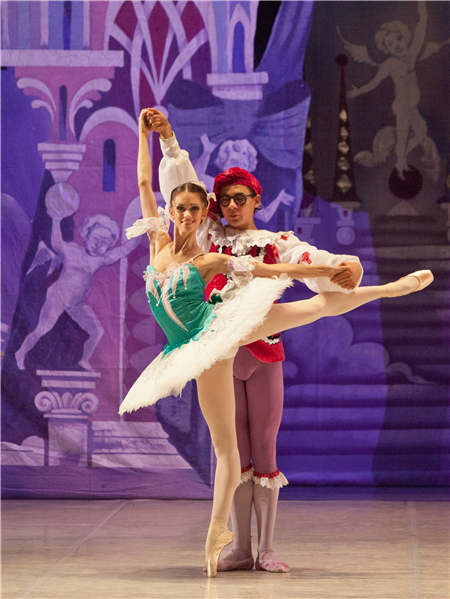 Russian State Ballet opened the performing season of Music Fans, a Beijing-based performing arts company, on April 20, with its classic program, Swan Lake, performed by the troupe's leading ballet artists, Dmitry Kotermi, Luliia Zviagina and Anna Shcherbakova.
Besides Swan Lake, the troupe will bring classic shows, including Sleeping Beauty, Cinderella and The Nutcracker, to Beijing.
Russian State Ballet, a frequent visitor to China, has toured the country many times but what makes this tour special is that they are going to bring a new program, titled The Adventure of Little Onion, which will be staged at Century Theater in Beijing on April 30.
According to Gordeev Viacheslav, the director of Russian State Ballet, The Adventure of Little Onion is a children's tale based on a popular character, named Cipollino, or Little Onion, by Italian writer Gianni Rodari. It was adapted into a ballet by composer Karen Khachaturian and choreographer Genrik Alexandrovich Maiorov, and was first staged at the Taras Shevchenko National Opera and Ballet Theater of Ukraine in 1974.
"The story is family friendly and it's about love, courage and friendship. We've build a friendship with Chinese audience during the past decade and with this new program, we want to show a different side of our troupe," says Viacheslav.
According to Wang Zhijun, the president of Music Fans, a company started in 2012, the new season will see more than 50 performance from six countries between April 20 and June 10, at Century Theater. And 30 percent of the tickets - around 80,000 tickets in total - will be priced under 100 yuan each.
Meanwhile, Chinese pianist Shi Jin, who rose to fame by performing for Chinese director Feng Xiaogang's 2010 movie, If You Are The One II, will hold his concert on May 20.
And French pianist Kim Barbie will have her concert on May 3 for children, with programs including Children's Corner by Claude Debussy, Beethoven's Piano Sonata No 8 in C minor, Op. 13 and Mozart's Piano Sonata No 16 in C major.
On June 1, International Children's Day, the boys choir, The Little Singers of Paris, will perform under the baton of its artistic director, Hugo Gutierrez, with repertories, including Camille Saint-Saens' Tollite Hostia, Alessandro Scarlatti's Laudate pueri Dominum and Mozart's Alleluia.
Other highlights will see Spanish flamenco, Carmen, Irish tap dance drama, Gaelforce Dance, and a concert for children brought by Beijing-based Accent Symphony Orchestra under the baton of Fan Tao, featuring works including The Carnival Of Animals, a musical suite of 14 movements by French composer Camille Saint-Saens.