Violinist to string perfect pitch at NCPA May Festival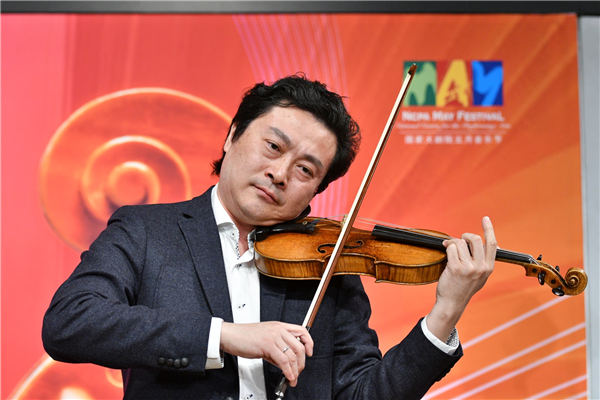 This year's NCPA May Festival will see some of the world's most talented violinists take to the stage.
As he slowly lifts two valuable violins from their cases, a 1734 violin made by Giuseppe Guarneri and a 1699 violin made by Antonio Stradivari, both famous Italian violin makers, Chinese violinist Lyu Siqing tries to avoid touching the glossily varnished wood on the bodies of the musical instruments.
"The lines on the wood are so beautiful, aren't they?" asks Lyu, turning the violins over.
Then the 48-year-old musician displays the versatile sounds of the violins by playing the tune Meditation from the opera Thais by French composer Jules Massenet.
"Music touches and influences our emotions. The violin has the magic to touch our most sensitive nerves," says Lyu. "Unlike the piano, which Chinese audience are quite familiar with, thanks to those great young Chinese pianists who have achieved international acclaim, such as Lang Lang, Li Yundi and Chen Sa, the violin still needs more exposure in China."
With the goal of popularizing the violin, promoting Chinese violinists and violin concertos by Chinese composers, Lyu is once again taking up the position of artistic director for the National Center for the Performing Arts May Festival.
The theme for the upcoming event, which runs from May 9 to 26, will pay tribute to the violin by staging 18 shows, gathering together nearly 20 violinists and orchestras from around the world.
"This is my fourth year in the role as artistic director for the NCPA May Festival and this is the first time that we are taking a musical instrument as the theme. I hope the audience will get a full picture of the violin during the festival," says Lyu at the NCPA.
With those two centuries-old violins, Lyu also will perform at the festival.
Two concerts will open the festival. On May 9, four Chinese violinists, Lyu, Ning Feng, Huang Mengla and Huang Bin, all winners of the prestigious Premio Paganini International Violin Competition, will share the stage by giving solo performances in the first half of the concert and teaming up in the second half to perform repertoires including J.S. Bach's Double Violin Concerto, Antonio Vivald's Concerto in B minor RV 580 for Four Violins and Niccolo Paganini's 24 Caprices.