Innovation path to great high-tech power
Share - WeChat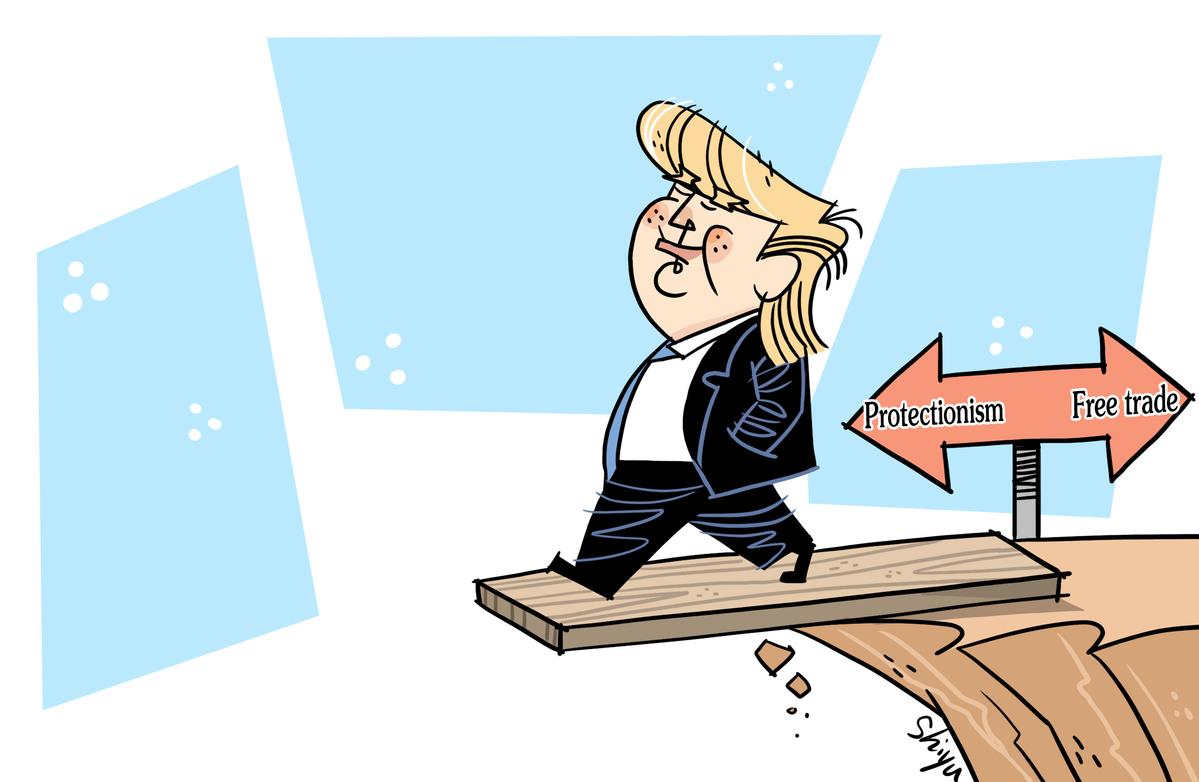 The White House has fired the first shot in what could lead to a trade war. Given that China-US trade hit $580 billion last year, it is not surprising that Washington has raised a dispute over "fairness" in bilateral trade. US President Donald Trump believes China is "taking away American jobs" and "dumping goods" on the United States.
China, on the other hand, has enough reasons to believe the value of Chinese exports has been much exaggerated. China does add value to the products assembled in the country. But to claim that China has been pocketing the entire value of such products, instead of just the added value, is not just unfair but also ridiculous. This makes the high-stake game which the US is playing risky.
As a Chinese proverb goes, it takes industriousness and creativity to "turn a challenge into an opportunity". When China negotiated its entry into the World Trade Organization, it thought the threshold was very high, but it took up the challenge and decided to join the WTO. And when former US president Barack Obama was negotiating with countries other than China to push through the Trans-Pacific Partnership agreement a couple of years ago, China intensified its national innovation program in response.
Now that Trump has imposed unilateral high tariffs on Chinese products to "punish" China for so-called theft of intellectual property and forced transfer of technology, Beijing should check the veracity of the US allegation and, if there is any truth in it, take necessary corrective measures.
Beijing could well tap the WTO to reconcile its trade differences with Washington. In the long run, the WTO might calculate only the added value of such products and include it in China's income from exports. But in the short term, China should take measures to increase its imports from the US within its capacity, in order to strike a balance in bilateral trade. After all, China's official data show Beijing had a $270 billion trade surplus last year, which should be rebalanced to establish, as President Xi Jinping said in 2013, "a new type of major-country relationship".
Trump's trade threat and China's initial moderate response have laid the base for negotiation in the next few weeks, while China's independent technology innovation drive could be the ultimate solution to the trade conflict. If Beijing can ride out this round of challenge, it would become a far-less-disputed global technological and trade competitor.

Trump may lose on real market, moral fronts
The US administration seems to have an insatiable appetite for profiteering from China.
The news of the two countries being eager to start negotiations on possible new deals is understandable. Donald Trump is known as a tough negotiator, and the US has already taken advantage of China in trade talks over the years.
The China-US Strategic and Economic Dialogue has been held annually since 2009, and almost every year the US has accused China of indulging in "unfair competition", "stealing intellectual property or restricting US investments". The truth is, the US soy bean industry and Boeing have received huge orders from China, and exports of US goods to China has grown 11 percent a year compared with their sluggish 5 percent growth with the rest of the world.
These facts would make even the shrewdest US lawyers lose their bearings in an argument with Chinese trade officials. Business circles agree that the major reason for the US' rising trade deficit is the country's restrictions on high-tech exports to China-since high-tech products are among the few that are really made in the US with high added value.
But as numerous reports about China's dilemma over the transformation of its economic model and the imminent crash of its financial and other sectors fail to materialize, many US strategists are alarmed that a number of Chinese high-tech and manufacturing industries are overtaking those in the US or would do so in the coming years. The psychological advantage of the US administration over China seems to be fast turning into frustration and anger, which explains why the Trump administration is placing economic security on par with military security while labeling China a strategic competitor.
The US is not reconciled to China's progress. Trump is blaming the trade deficit on the imaginary wrongs in bilateral trade relations. And his threats of "fair trade" in line with his "America First" policy may be a multi-targeted strategy.
If Trump wants to do something desperate against a trade partner that has not done anything wrong, he will lose badly on many fronts, including moral values and real markets.
Most Viewed in 24 Hours
China Views