Manchester to receive WeChat makeover
Share - WeChat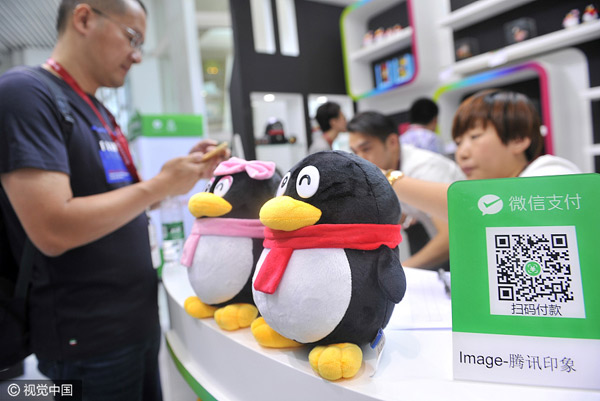 New initiative will make city 'China-friendly'
A group of businesses and local authorities in Manchester has hired a tech consultancy company to help make the northern city the United Kingdom's most WeChat-friendly urban center.
Consultancy ThoughtWorks is orchestrating a digital upgrade for Manchester so Chinese people will eventually be able to book transport, buy soccer tickets, reserve hotels and make in-store purchases all on the WeChat mobile app, as they would in China.
Originally designed as a messaging app, WeChat has grown into a multipurpose digital platform that allows users to perform everyday tasks with their phones. WeChat has 963 million monthly active users, around 90 percent of which are Chinese.
"Tens of thousands of Chinese people arrive in Manchester every year on business, to study, or just to visit the city, and most are using WeChat," said Mark Collin, group director of ThoughtWorks Ventures in Europe.
"It's the perfect way to interact with Chinese consumers, unlike Western apps and platforms which are much more fragmented. Whether it be interacting with students, investors or visitors, we need to do a better job of making Manchester a China-friendly city."
ThoughtWorks is headquartered in the United States and has UK offices in London and Manchester.
The firm was hired by the Manchester China Forum, which was set up in 2013 to strengthen ties between the city and China. Members include local bodies like Manchester City Council and Manchester Airports Group, as well as businesses like British Telecom, Manchester City Football Group and Deloitte.
Forum executive director Rhys Whalley said the new "China-focused digital strategy" will support trade and investment and create a more "China-ready digital environment" in Manchester.
Previously, ThoughtWorks worked with the UK Department for International Trade on a WeChat channel that connects British fashion brands with Chinese buyers. The firm recently set up a research and development center in Wuhan in Hubei Province in central China.
Collin said ThoughtWorks will first work with Manchester Airport to set up a WeChat channel that will allow users to unlock trolleys with QR codes, access duty free offers, and book transport to and from the city.
The firm will then work with Marketing Manchester to create an in-depth guide on WeChat with information about popular sites, hotels, restaurants and bars.
Further down the road, Collin says the initiative will look to set up merchants with WeChat Pay, the app's digital wallet, so Chinese people will be able to operate without cash in Manchester, as they can in most Chinese cities. WeChat Pay debuted in the UK last November at shops in London's Camden Market.