Trump: DPRK deal 'good for world'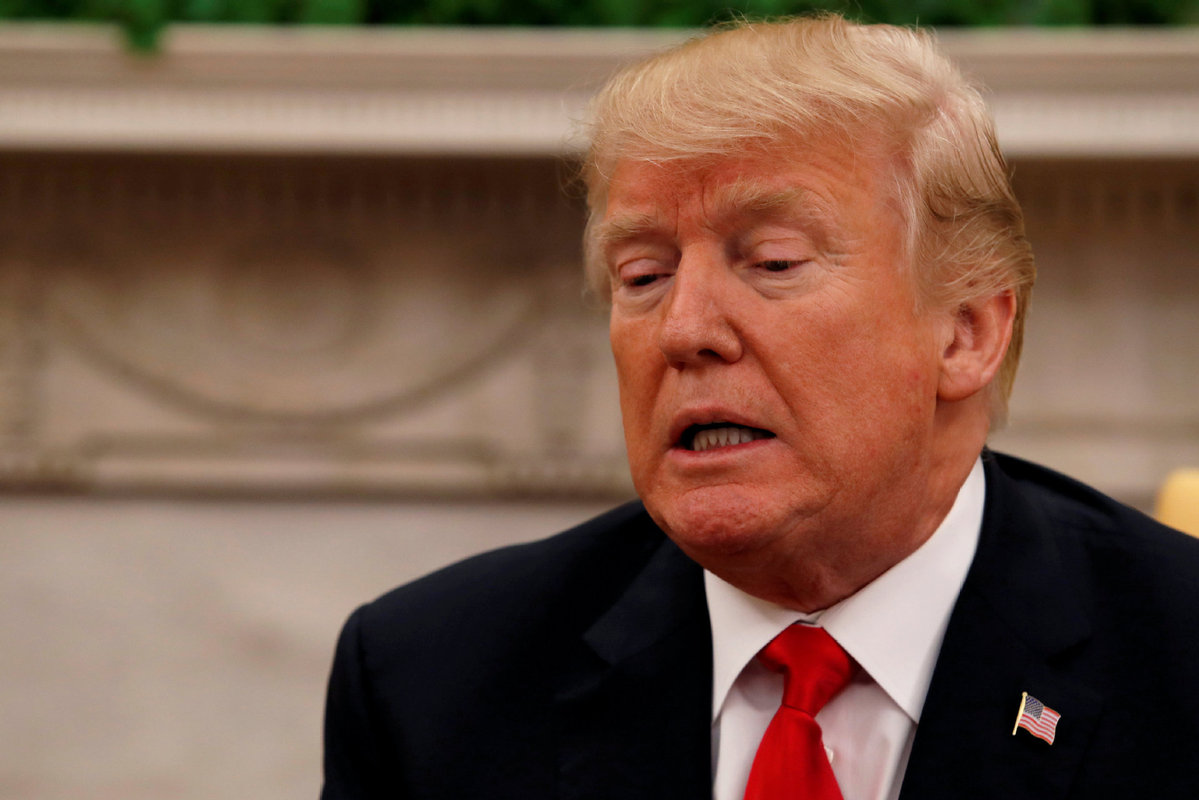 President takes optimistic tone on prospect of talks, peninsula solution
WASHINGTON - US President Donald Trump said on Friday that a deal with the Democratic People's Republic of Korea is "very much in the making" and will be good for the world.
Trump's remarks came a day after the White House confirmed that he agreed to meet Kim Jong-un, the top leader of the DPRK, in a couple of months, signaling a big step toward resolving the Korean Peninsula nuclear issue.
"The deal with North Korea is very much in the making and will be, if completed, a very good one for the world. Time and place to be determined," Trump tweeted on Friday evening.
Earlier in the day, White House spokeswoman Sarah Sanders said at a briefing that Trump will meet with Kim after seeing "concrete steps" taken by Pyongyang.
Signs of a thaw on the Korean Peninsula emerged earlier this year since working-level talks between the countries were held at the truce village of Panmunjom and the DPRK participated in the Pyeongchang Winter Olympics. In addition, the neighbors agreed to hold the third inter-Korean summit in late April.
China welcomed the positive news on direct dialogue between the United States and the DPRK, a Chinese Foreign Ministry spokesperson said on Friday.
Trump tweeted on Saturday that the DPRK had agreed to not conduct another missile test until after the proposed meetings had taken place, as he sought to rally international support for a potential summit.
"North Korea has not conducted a Missile Test since Nov 28, 2017 and has promised not to do so through our meetings. I believe they will honor that commitment!" Trump wrote on Twitter.
The president continued the optimistic tone on Saturday night when he led a rally for the Republican candidate in a special House race in western Pennsylvania.
"I think North Korea is going to go very well, I think we will have tremendous success ... We have a lot of support," Trump told reporters before boarding his Marine One helicopter to travel to the rally.
Trump shocked many inside and outside his administration on Thursday when he told Republic of Korea officials who had just returned from talks in the DPRK that he would be willing to accept Kim's meeting invitation.
Earlier on Saturday, Trump tweeted that China was pleased that he was pursuing a diplomatic solution rather than "going with the ominous alternative" and that Japan is "very enthusiastic" about the agreed-to talks.
Trump has spoken with both Chinese President Xi Jinping and Japanese Prime Minister Shinzo Abe since Thursday's announcement, and said Xi "appreciates that the US is working to solve the problem diplomatically rather than going with the ominous alternative".
Trump had previously threatened the DPRK with "fire and fury like the world has never seen".
Trump also said China "continues to be helpful!".
Trump said in another tweet on Saturday that Abe is "is very enthusiastic about talks with North Korea" and that the two discussed how to narrow the US-Japan trade deficit.
"It will all work out!" Trump wrote.
Xinhua - Ap - Reuters - Afp