Greeks introduced to Chinese writing, culture at Athens museum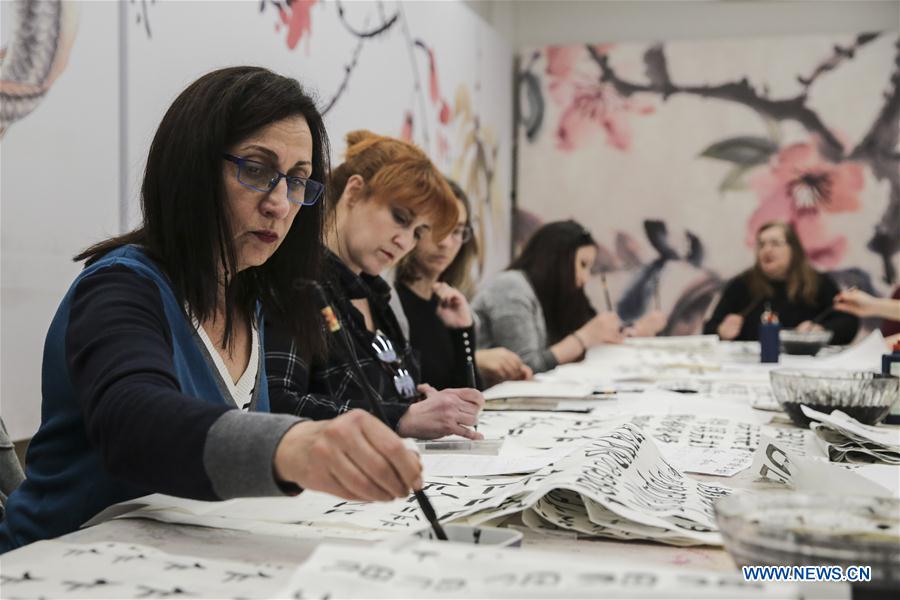 ATHENS - Greeks queued at Herakleidon museum opposite the Acropolis hill in Athens this weekend to participate in a workshop aimed to introduce them to Chinese writing and culture.
"Let's write Chinese" read the museum's open invitation to the Greek audience and hundreds of people of all ages and professions expressed interest to pick up the brush and ink and try to structure Chinese characters on rice paper.
Professor of History Jing Ling, a Chinese living in Greece for many years who speaks fluently the Greek language, taught the participants some of the basic strokes and guided them through the history of the Chinese writing system and calligraphy, one of the quintessence of Chinese culture.
The goal of the educational workshop which was held for first time at Herakleidon museum free of charge on Saturday was to provide one more opportunity to Greeks to get to know a different way of thinking, another philosophy and culture and search for similarities between the two ancient civilizations, Jing Ling told Xinhua.
"It is the first time I am doing this kind of workshop. It is not to teach Greeks the art of calligraphy or give a Chinese language lesson. Through the Chinese characters and the brush I wanted to let people understand that the two countries are different, but there is fertile ground for communication," she explained.
As the interaction between the Chinese and Greek people is flourishing in recent years thanks to the deepening cooperation between the two governments and many enterprises in numerous sectors, more and more Greeks are intrigued to get acquainted with Chinese mentality, culture and life style.
The "students", teenagers and white-haired museum visitors alike, "bombarded" Jing Ling with questions, asking her to show them how to write in Chinese "man", "woman", "sun", "tiger", "beauty" and "love."
Stratos Diamantis, a musician, and Fani Kalogeropoulou, were initially discouraged by the complexity of some characters and writing with the brush, but by the end of the workshop they were eager to learn more.