Container ship arrivals heralds new era in Chinese-European trade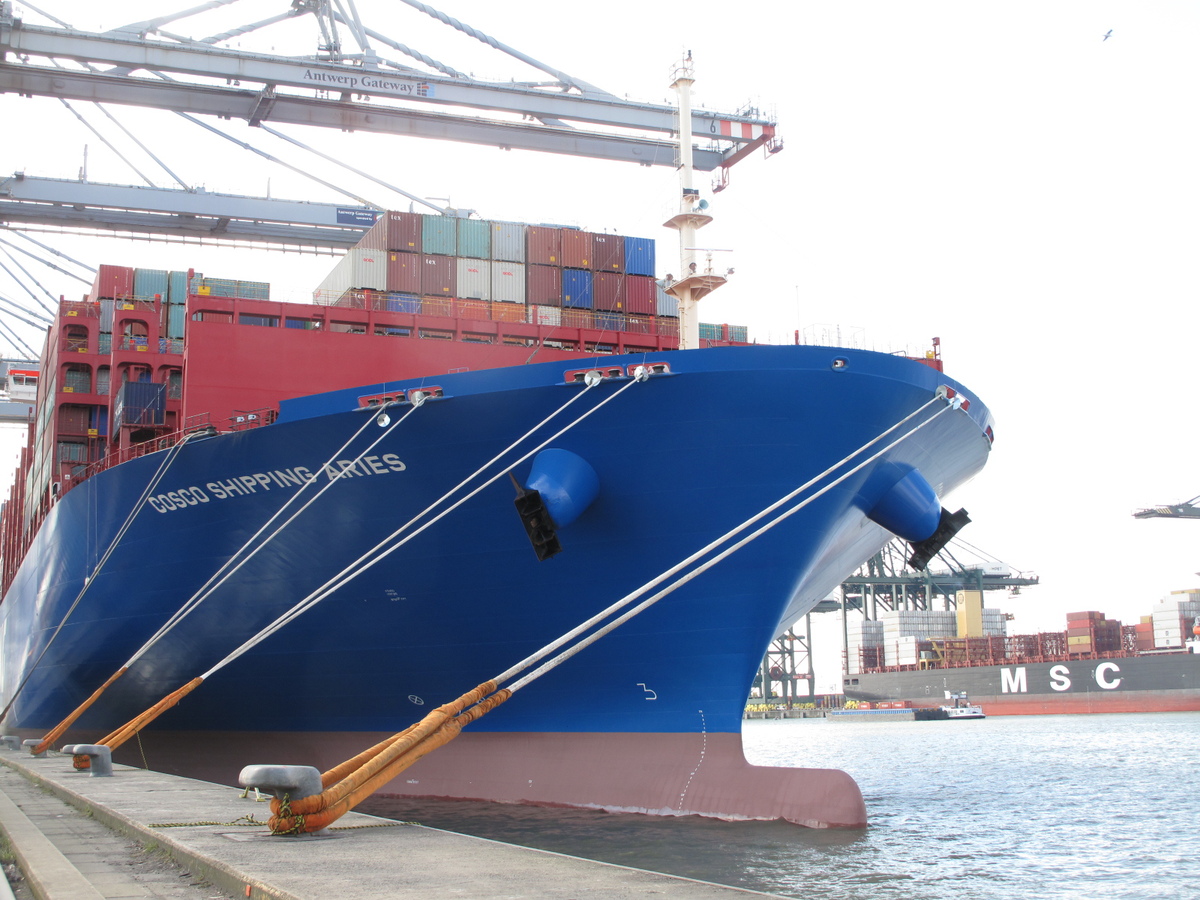 Direct route could revolutionize transportation
Ultra large container vessel COSCO Shipping Aries, the first 20,000 TEU (twenty-foot equivalent unit) ship of the Beijing-based COSCO Shipping Lines group, docked at the Belgian port of Antwerp on Tuesday as part of its maiden voyage from Shanghai.
COSCO Shipping Aries is the largest vessel in the COSCO Shipping Lines fleet, which provides direct shipping services from North and East China and other parts of Asia to Northwest Europe.
Minister Counsellor of the Chinese Embassy in Belgium Chen Dong joined COSCO Europe GmbH president Lin Ji and other dignitaries including the mayor of Antwerp and president of the Antwerp Port Authority at the ceremony to mark the vessel's arrival.
"This will promote direct trade between Northwest Europe and the Northern Chinese ports while most Asia-Europe services first stop at the port of Shanghai before shipping to the North," said Lin.
COSCO Shipping Aries' carrying capacity, operating speed and safety performance are amongst the very highest in the world, and its energy efficiency index is about 50 percent lower than the industry benchmark.
The vessel is also fitted with an intelligent ship energy efficiency system and offers advantages in low fuel consumption, large capacity, high intelligence and strong port worthiness.
"The design of this vessel shows the philosophy of environmental protection," said Lin. He added that the increased capacity would benefit clients who require direct shipping services for large assembly units, such as Airbus.
To illustrate this, components of one Airbus A320 plane were loaded onto the COSCO Shipping Aries in Hamburg last week, destined for Tianjin Airport Economic Area in North China.
To complete her 77-day maiden voyage, the vessel will continue on her way to Shanghai, Tianjin, Dalian and Qingdao.
"China will continue to open its door and promote cooperation under the framework of the Belt and Road Initiative," said Minister Counsellor Chen.
Marc Van Peel, vice-mayor of Antwerp and president of the Antwerp Port Authority said his port has doubled the last five years' trade with the Far East and half of that was with China. Van Peel recalled how 34 years ago, the COSCO Liao Cheng container vessel called at Antwerp for the first time, and said how 'confidence' and 'growth' were the two characteristics that best summed up the relationship between the port and the company.
Over the past three decades, significant improvements have been made in container ships, including the capacity increase in Antwerp port from less than 1,000 TEU to 20,000 TEU, the growth in shipping space for cargo import and export from 250 TEU to 7,000 TEU per week, and the number of routes served from Antwerp from 1 to 12.
Wu Nian contributed to this story.