Chinese buddhist art exhibition kicks off in Venice
Share - WeChat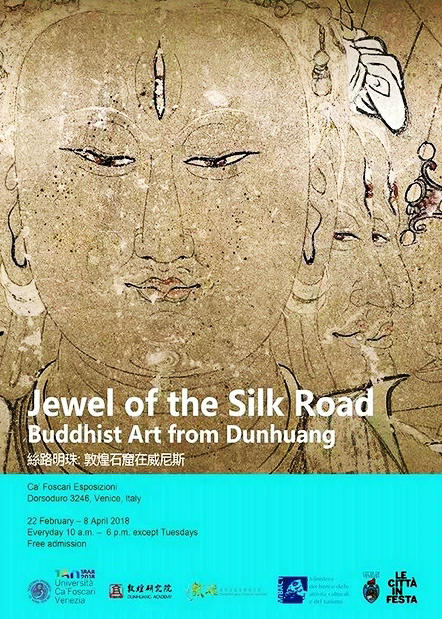 Setting his feet in China over 700 years ago, the famous Italian explorer Marco Polo described Dunhuang in his detailed chronicle as a major pivot on the ancient Silk Road, creating an unprecedented connection between this oriental city of commerce and Europe's trade empire, Venice.
Centuries later, as the ancient Silk Road is being promoted and reinvigorated by the Chinese government as the "Belt and Road Initiative", the dust-laden history of trading and cultural exchanges between Venice and Dunhuang is once again being unearthed by experts and scholars from China and Italy, who have launched the first ever exhibition of Buddhist Art from Dunhuang in Italy, which represents the privileged route that once favored the diplomatic, commercial and cultural relations of Eurasia.
The exhibition, Jewel of the Silk Road: Buddhist Art of Dunhuang, kicked off in Ca' Foscari University of Venice on Feb 22 and will last until April 8. It has attracted Italian scholars, politicians and the public to brush up on the past memory and friendship of the two nations.
"Venice and Dunhuang have a strong connection. Venice gave birth to Marco Polo, who reached Dunhuang during his trip to Asia. The two cities together contributed to giving a strong impulse to trade, the spreading of ideas, beliefs, customs and to the artistic expressions of the people's encountered by Marco Polo and travelers who preceded and followed him", said Michele Bugliesi, rector of Ca' Foscari University of Venice.
As Bugliesi indicated, the two cities' predestined connection has stretched into the modern era. In 1987, the Mogao Caves in Dunhuang and city of Venice were enrolled in the UNESCO World Heritage List together, which remain the only two world heritage sites that meets all six UNESCO criteria up until now.
According to Ca' Foscari University, the design of the exhibition space will be based on the unique colours of Dunhuang's art and will be inspired by the paintings of traditional Buddhist stories using, as the main exhibiting means, the works of art from Dunhuang and the original-format copies of the caves.
The images and objects on the Silk Road, which have been brought in from other sources, will be used instead to render the context.
The intention is to bring the charm of Dunhuang's art to an audience that observes it from 6,400 km and a point of view 1,600 years newer.
The 1,600-year-old Mogao Caves are home to more than 2,000 colored sculptures and 45,000 square meters of frescoes. They are located in a series of 735 caves carved along a cliff in northwest China's Gansu province along the ancient Silk Road route. The Buddhist site received more than 8 million domestic and foreign visitors in 2016, up 21.37 percent year on year, according to Xinhua.
Most Popular