Major-country diplomacy for the new era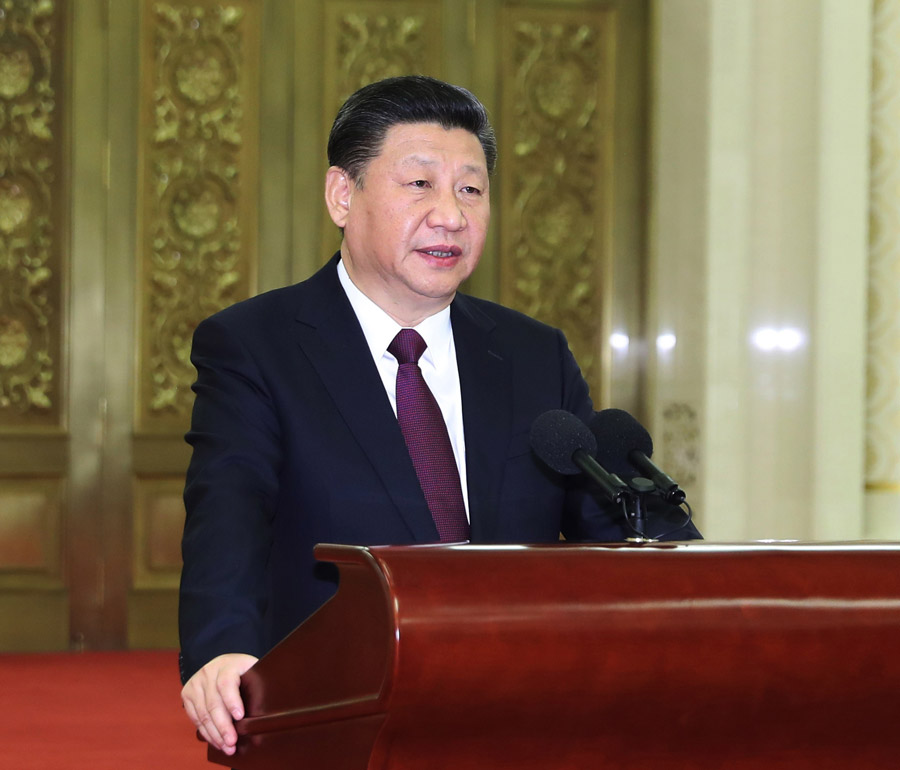 What does major-country with Chinese characteristics for the new era really mean?
The phrase, which has been frequently cited by Chinese leaders, refers to the country's long-established independent foreign policy of peace. In the new era, it will evolve to reflect the new features of the times, and develop into a diplomatic system underlining China's dignity, strategy, responsibility and posture as a major country.
China is a major country. Its GDP, the second-largest in the world, increased to nearly $13 trillion in 2017. The Chinese people are increasingly proud of China's achievements. It has gone from the stage of standing up and growing rich to becoming strong.
But it should also be remembered that China's per-capita GDP still ranks about 70th in the world, and it is still a developing country. So, while we have reasons to be proud of our achievements, we should never allow ourselves to be carried away.
Major-country diplomacy for the new era is tailored to serve the needs of realizing the country's two centennial goals. Its dignity as a major country requires due consideration for its core interests, which can never be compromised, and the protection of its overseas interests.
Such a diplomacy calls for a corresponding strategy, which was elaborated in detail by Xi Jinping, general secretary of the Communist Party of China Central Committee, in his report to the Party's 19th National Congress. China will hold high the banner of peace, development and cooperation, and uphold the principles of equality and mutual trust, inclusiveness, mutual learning and win-win cooperation. China calls for building a community of shared future for all humankind, and through the implementation of the Belt and Road Initiative, seeks to create opportunities for its own development and promote economic globalization and global governance.
In international relations, China upholds the right approach to justice and interests, and develops relations with neighboring countries under the principles of amity, sincerity, mutual benefit and inclusiveness.
Based on these principles, China has established strategic cooperative partnerships with more than 80 countries, and is committed to building a new type of international relations.
The CPC strives not only for the well-being of the Chinese people, but also for the advancement of mankind. It is therefore natural that China acts as a responsible power. China abides by the objectives and principles set in the United Nations Charter, assumes its responsibilities as a permanent member of the UN Security Council, and offers Chinese wisdom for tackling major global issues.
For example, in coping with the effects of climate change, China, pursuant to its national conditions and development strategy, decided on its own initiative the goals of its action plan, and has made vigorous contributions to carbon reduction. After the outbreak of the Ebola epidemic in Africa, China immediately sent medical teams to Western African regions and set up treatment centers. In maintaining international peace and security, China contributed the most peacekeepers among the five permanent members of the UN Security Council. China has also played a constructive role in the Iranian and Korean Peninsula nuclear issues.
The Belt and Road Initiative is a typical example of China's efforts in promoting global connectivity and development. According to the Ministry of Commerce, China's new investment in 53 countries along the Belt and Road amounted to $11.18 billion in the first 10 months of 2017, accounting for 13 percent of the total outbound investment during this period.
At the same time, the value of new engineering contracts signed by Chinese enterprises in 61 countries along the Belt and Road stood at $102.07 billion, an increase of 21 percent year-on-year.
China's responsibility as a major country should match its international status. But China's leading role should never be misinterpreted as an attempt to compete for and grab global leadership from other countries. When China was poor, it stood tall; when it becomes rich, it remains modest; and when it grows strong, it will not seek hegemony.
Being a major country does not mean being arrogant or chasing for undeserved fame or compliments. China's major-country diplomacy has won global understanding and support. This is because China adheres to the road of peace and development, advocates for and abides by rules and norms governing international relations, speaks and acts in a responsible way, and is committed to discarding zero-sum games.
Major-country diplomacy with Chinese characteristics for the new era is the natural evolution of China's achievements, development, and innovation over the past 70 years.
The author is a professor with the China Center for Contemporary World Studies. Courtesy: chinausfocus.com