UK government seeks longer post-Brexit transition period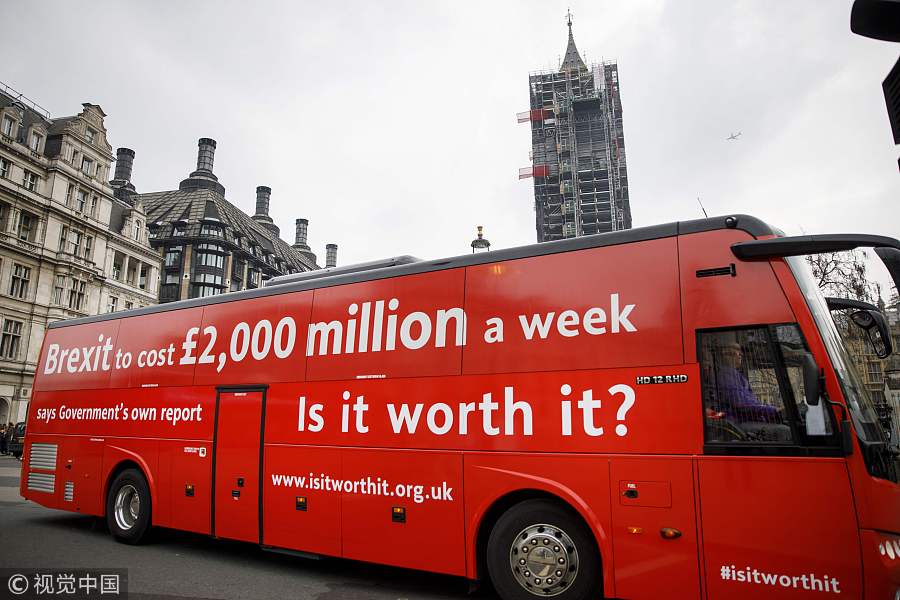 British Prime Minister Theresa May has indicated her government could seek a longer post-Brexit transition period than previously suggested after the United Kingdom leaves the European Union on March 29, 2019.
Britain currently wants to leave the EU's single market and customs union as soon as Brexit happens, but for trading with the bloc to continue "on current terms" during the transition period.
The EU says this can only happen if Britain agrees to abide by all current EU rules-including freedom of movement.
A transition period has been requested by Britain to allow businesses and the public time to adjust to life post-Brexit, and its terms are currently being discussed.
The EU has proposed the post-departure period should end on Dec 31, 2020, which would allow both sides to come to an agreement on future trade ties, as the UK cannot sign any new trading or security agreements with the EU until it has left the bloc.
The UK government says it remains committed to a limited transition period of around two years, but that "it wishes to discuss with the EU the assessment that supports its proposed end date".
At a meeting with Dutch Prime Minister Mark Rutte in London on Wednesday, May once again said that she hoped a deal could be agreed by March, allowing talks on future trading relations to start the following month.
Previously, EU negotiator Michel Barnier had indicated that significant differences remained and the transition period was "not a given", but on Wednesday a senior EU official said any delay to transition agreement discussions would not hold up preparations for the trade talks.
That being so, President of the European Council Donald Tusk will be able to go ahead with issuing guidelines for the negotiations on future British-EU relations at a summit in March as originally planned.
Pro-Brexit MPs have warned Britain risks becoming a "vassal state" of the EU during the transition period, and earlier this week, a group of 62 pro-Brexit MPs from May's own Conservative Party published a letter with their suggestions for a successful Brexit.
It stressed that the UK should be able to negotiate free trade deals with other countries as soon as it leaves the bloc. "Any implementation period must not restrain the UK from negotiating or signing other trade agreements," the letter said.
Pro-European MP Chuka Umunna of the opposition Labour Party said the government's querying the end date suggested ministers wanted an "indefinite" transition and were planning a "never-ending road to nowhere".
May and senior ministers are having talks on Thursday to clarify their position ahead of a speech on the subject she is expected to make next week.
Meanwhile, German Chancellor Angela Merkel said on Thursday that Brexit offers the EU an opportunity for a broad rethink of its financial setup, before an EU summit that will tackle the bloc's future budget.
"We need a new start for Europe," said Merkel, adding the looming debate on a new budget for the 27-member bloc after Brexit could lead to some major changes.
"The debate about the future financial framework is also a chance to look at the finances of the EU as a whole," she said.
Leaders at Friday's summit will discuss whether to boost the next seven-year budget to pay for common policies on security, defense and migration between 2021 to 2027.
Reuters contributed to this story.