Delivery companies to the fore in fight against plastic waste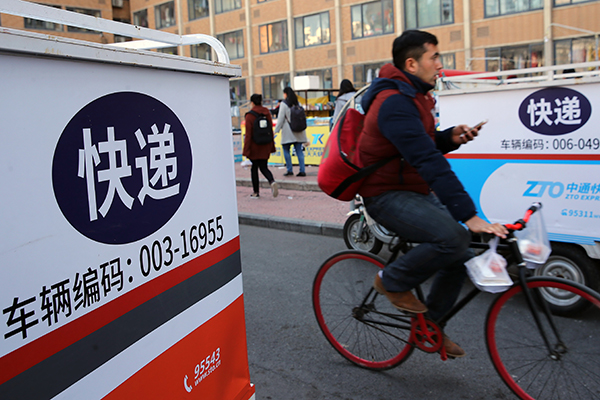 China has implemented newly revised national standards for packing materials used for express deliveries, which require the delivery companies recycle their packing materials to reduce plastic waste. Beijing News commented on Thursday:
Statistics from the State Post Bureau reveal that the express delivery industry in China consumes about 4 billion plastic woven bags, 7 billion plastic bags, 4 billion cardboard boxes and 330 million rolls of adhesive plastic tape every year, and less than 20 percent of these materials are recycled.
The authorities vowed in December to increase the ratio of recyclable plastic to 50 percent by 2020 to check the growing mountain of plastic waste generated by the industry.
The new national standards are expected to promote the use of more environmentally friendly materials, as the increased costs involved in disposing of the discarded plastic bags which will fall on the delivery companies, will necessarily prompt the companies to use more biodegradable materials and increase their reusing of boxes and bags.
And the upgrading of their plastic packing materials offers a new way for companies to compete with each other, as they will need to be more environmentally friendly without passing on the costs to their customers, who are very price sensitive.
The delivery companies should realize that to take the initiative to reduce environmental pollution, which will probably increase the operating costs, will benefit them in the long run as it will reduce their environmental footprints, something that will appeal to environmentally conscious customers, who are mostly the younger generation.
It will take the joint efforts of all relevant parties, including the e-commerce companies and consumers, to recycle the packing materials.