British food exports to China increase by 28 percent
Share - WeChat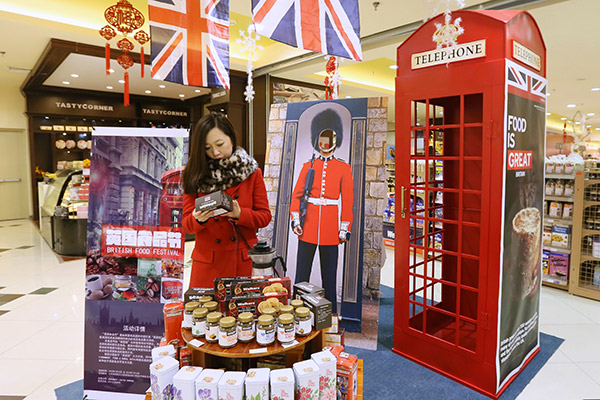 China became the eighth-largest importer of food and drink from the United Kingdom in 2017, according to new data that shows a growing Chinese appetite for British milk powder, salmon, whisky, and beer.
UK food and drink exports to China grew by 28 percent last year, to reach 564.4 million pounds ($783.6 million) in value, according to trade figures released by the UK's Department of Environment, Food and Rural Affairs, which is also called Defra.
China rose up the rankings from ninth in 2016, when UK exports to China totaled 439.5 million pounds.
The United States is the only country outside the European Union to consume more British food and drink than China.
Defra said in a statement: "As Prime Minister Theresa May demonstrated during her recent trip to China, the UK's mouth-watering food and drink continues to grow in popularity across the globe with China now the eighth-largest export market for UK food and drink."
Milk powder was the top export product by value last year, when exports were worth 72.9 million pounds, up 44 percent on 2016. The UK exported 69.9 million pounds of salmon to China last year, up 28 percent. And the Chinese imported 61.8 million pounds worth of British whisky, up 47 percent on the previous year. British beer exports to China are also growing quickly in popularity, increasing to be worth 45.9 million pounds, which was 127 percent more than in 2016.
The UK Food and Drink Federation, which is also known as the FDF, said there is growing Chinese interest in the UK's "afternoon tea" products, which includes jams, scones, tea, and cakes. The UK sold 2 million pounds of tea to China last year.
The organization links this trend to the popularity of British television programs, including Downton Abbey and the Great British Bake Off.
"The FDF has sought to highlight the opportunities a market the size of China can present to food and drink manufacturers and would-be exporters," said Dominic Goudie, FDF's export policy manager. "The government too is supporting businesses by negotiating new market access for certain products, with meat being a prime example, which has helped businesses begin to exploit the value of China as an export destination."
In January, China announced plans to lift a ban on British beef imports. And in November, two companies in Northern Ireland gained approval to export pig trotters to China in a deal that could generate 20 million pounds a year for UK farmers.
Defra said that, in total, the UK exported 22 billion pounds of food and drink products last year, up 9 percent on 2016. The top five exports were whisky, salmon, chocolate, cheese, and beer. The UK's top export destinations were the Republic of Ireland, France, the United States, the Netherlands, and Germany.