See Now, Buy Now: New Retail lifts Chinese fashion brands to int'l stage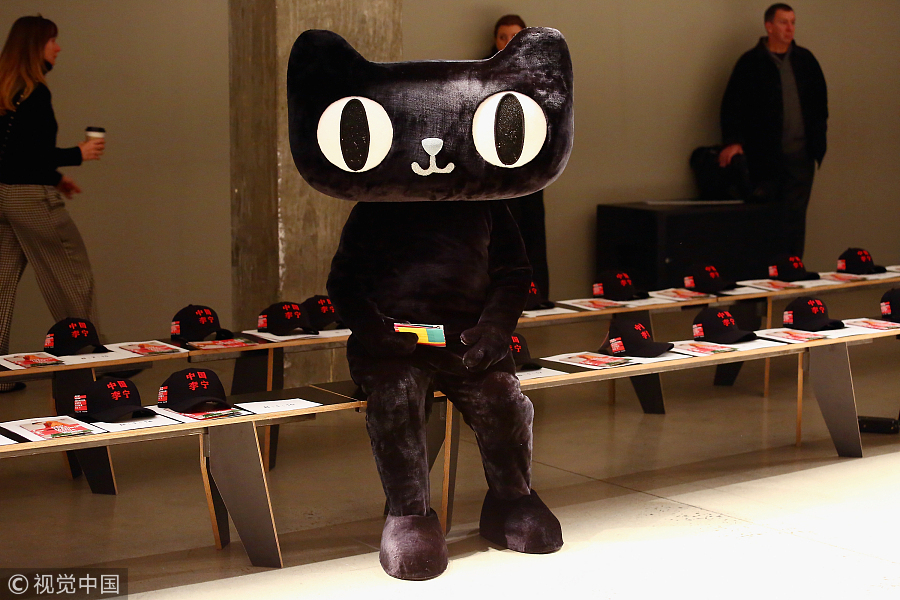 NEW YORK - Placing orders for selected fashion products while watching models showcasing the said styles on stage, the New Retail mode ushered in by Tmall on the China Day of New York Fashion Week (NYFW) is elevating China's fashion brands to the international stage.
Unveiled on Feb 7 at NYFW's official stage Skylight Modern in Manhattan, the Tmall China Day showcased leading Chinese fashion brands including Peacebird, Clot, Chen Peng and Li Ning, and also introduced New Retail and digital elements to NYFW.
It's the first time for these Chinese brands to showcase at the top-notch stage in New York.
Steven Kolb, president and CEO of the Council of Fashion Designers of America, said that "China Day allows us to further expand the scope of NYFW: Men's by showcasing the most exciting Chinese fashion talent to the American fashion community."
Chinese brands all aim high at the New Retail mode in overseas markets. They brought innovative styles striking a balance between Chinese and western features to NYFW.
During the runway show and presentation, the Skylight Modern was filled with Chinese elements. A number of China Day showcasing halls also opened in downtown Manhattan for fashion shoppers.
Besides new style presentations and runway shows, Tmall also provides New Retail technological support for brands participating in NYFW, through which hundreds of millions of customers are able to "see now buy now" via the shopping page especially designed for the NYFW's China Day.
"We are committed to helping emerging Chinese designers to receive more international exposure and generate growth for their brands," said Jessica Liu, president of Tmall Fashion.
She added that Tmall wants to showcase mature commercial brands from China as well as to open new channels for them to expand globally.
"With the help of data-driven New Retail technology and the 550 million active users on its platforms, Alibaba offers new possibilities to the fashion week event," she said.
In September 2017, Tmall and NYFW reached a partnership, aiming to help US brands and designers to develop in China's fashion market and provide opportunities for Chinese brands to break into international markets.
The two sides agreed to set up China Day, the first event of NYFW titled after the name of a country, in an effort to promote exchanges and fusion of the fashion industries between the two countries.