Fortunes reversed? Newspaper mistakenly points out May's "mistake"
Share - WeChat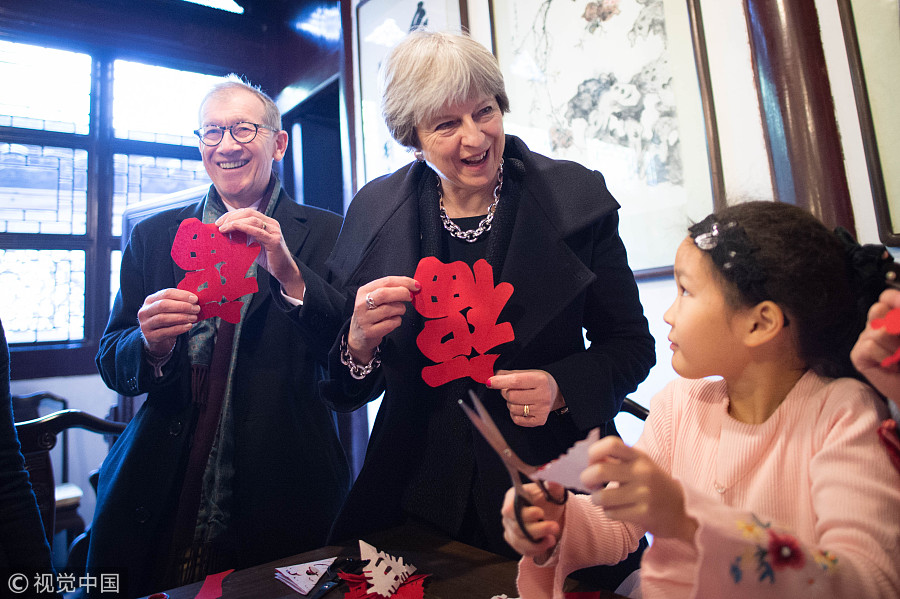 BEIJING - When arriving in a new country, it is important to be aware of the culture to avoid embarrassing missteps. British Prime Minister Theresa May knows this all too well. She was recently mocked by the British press for holding a Chinese character upside down. However, the mistake was by the newspaper not May.
During her recent visit to China, May went to the Yuyuan garden in Shanghai. At the garden, May and her husband Philip tried their hand at paper-cutting, and she held her cut-out of the character fu, meaning good fortune, upside-down. The London Evening Standard, a British newspaper, edited by one of May's former colleagues, former British chancellor George Osborne, called out her so-called mistake.
"The beaming couple were holding them upside down, earning confused looks from people at the Busy Bee center, including the young girl they were chatting to," the newspaper said.
Fu means luck or happiness in Chinese. However, it is actually a custom to hang the character "fu" in reverse on doors or in windows, as it means good luck will arrive, as "upside down" rhymes with "arrive" in Chinese.
Chinese netizens sprang to May's defense. "This is downright correct, holding fu reversed shows people's wishes for good luck," a user named Gelan said on Sina Weibo, China's Twitter-like social media platform.
"It is the newspaper that knows little about Chinese culture," another user commented on Weibo.
May's three-day trip sealed a dozen deals worth a total of about 9 billion pounds (about 12.8 billion U.S. dollars) including in Belt and Road construction, finance, innovation, agriculture and technology. Her visit is expected to put a new shine on the "Golden Era" between both countries.
It seems the Chinese public have taken a shine to the prime minister. In an interview with a Chinese reporter, May was glad to find out that the Chinese people affectionately call her "Auntie May."
"Oh, thank you. Thank you very much, indeed. I'm honored by that, thank you," the prime minister replied.