New 'golden age'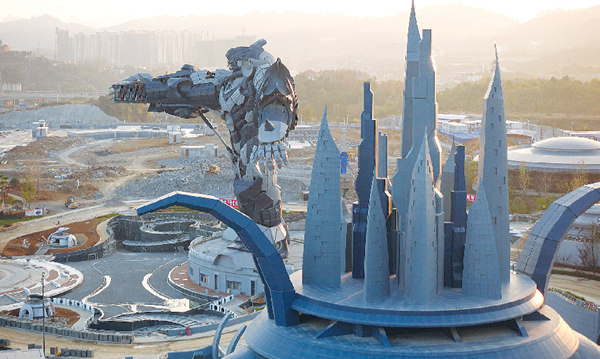 Rapid rise of China's science fiction reflects the dynamism of its culture and economy
As recently as 2012, science fiction was a small market in China. The market was so poor that writers Liu Cixin and Han Song decided to donate 10,000 yuan ($1,516; 1,285 euros; £1,130) each of their own money just to allow the Chinese Nebula Awards to hold its annual prize presentation.
But Chinese science fiction is hot now. Liu Cixin won the international Hugo Award for Best Novel in 2015 for The Three-Body Problem.
Major movies are in production, based on the trilogy of which the book is a part. In addition, Hao Jingfang won the Hugo for Best Novelette for her story Folding Beijing in 2016, and a movie based on it is also planned. And multibillion-yuan investments in China are creating science fiction parks and facilities for producing films, videos and games.
This month, the 800-hectare, 10 billion yuan Oriental Sci-Fi Valley theme park will open in Guiyang, in Southwest China's Guizhou province. Emphasizing virtual reality, it will tie in with Guiyang's large big data industry.
Also, in November, the Sichuan Association for Science and Technology announced plans to build, in the city of Chengdu, a 12 billion yuan China Science Fiction City, which will develop and show off the role of sci-fi in China's cultural industry.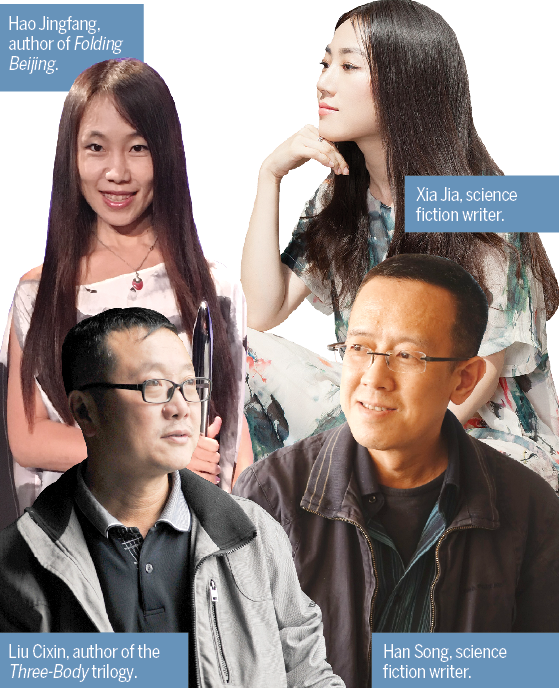 Why is Chinese science fiction surging now, and what does it tell us about China's economy and culture?
To explore the cultural and philosophical influence of science fiction in China, China Daily spoke with seven writers or experts in the field: Han Song, Hao Jingfang, Liu Cixin and Xia Jia are well-known science fiction writers. Wu Yan and Nathaniel Isaacson are university professors who specialize in science fiction. And Ji Shaoting is an entrepreneur who has started a company to develop and promote China's science fiction.
China's place in the world
In her essay "What makes Chinese science fiction Chinese?" Xia Jia, science fiction writer and associate professor of Chinese literature at Xi'an Jiaotong University, writes that "the crises of capitalist culture accompanied by the process of globalization are manifested in the daily lives of Chinese people."
In an interview, she says: "The past 30 years were a great transformation in society and culture and economics - every aspect of China. Many different aspects of this transformation are reflected in science fiction stories. For example, in these stories you can see that Chinese people have much anxiety about the tension between the traditional China and the dream to be part of the modern world. You can feel there is an anxiety about the destiny of human beings, but also you can say this anxiety is Chinese people's anxiety about their future. How can they survive in this cruel competition?
"You can see such anxieties in, for example, Liu Cixin's works and other short stories. Some people explain the main competition between human beings and Liu Cixin's aliens as like another version of competition between big nations. It's a feeling of a crisis during the process of globalization," Xia says.
However, Liu Cixin himself says his story The Dark Forest, part of the Three-Body trilogy, is not meant to reflect competition on Earth.
"The relationship between different groups of human beings on Earth is very different from that between mankind and creatures from other planets. ... We are the same species on Earth and are more likely to understand each other. Civilizations are not isolated from each other. They can exchange and discuss many things that they do not understand. This opportunity does not exist between interstellar civilizations."
Han Song, a prominent science fiction writer and also a senior executive at Xinhua News Agency, says: "From the very beginning, when science fiction was introduced into China, it served as a mirror of Chinese society and the process of China's modernization. China has a very long civilization, and science fiction first played a role in the rejuvenation of that civilization in the first part of the 20th century. For example, a lot of science fiction at the very beginning just imagined how China became a very, very strong country."
Nathaniel Isaacson, associate professor of modern Chinese literature and cultural studies at North Carolina State University, points out that Chinese science fiction first arose in the early years of the 20th century, at a time when the Qing Dynasty (1644-1911) was collapsing, European countries had again invaded Beijing to end the Boxer Rebellion, and many coastal areas were under European control. Early Chinese science fiction often explored the place of China in the world and looked at ways China could overcome European colonialism.
"Fairly often, what they imagined was a future where China is politically, economically and culturally dominant," says Isaacson. "For example, the short story New Story of the Stone (written by Wu Jianren in the early 1900s) imagined a world where Shanghai had become a world center of trade and commerce and hosted a world expo and global political summits. But the narrative falls apart. At that time, people could not imagine such things coming to pass. But they did happen in the early 21st century," Isaacson says.
Writer Han Song says, "Science fiction has gradually become a real soft power of China. It even influenced (former US president) Barack Obama - we could not have imagined that. Its real power is because it touches some real problems - philosophical and spiritual things. That is soft power."
In addition, Han says, "Everybody can see it has become more and more popular. The popularity of science fiction accompanies the rise of a country. If the country continues to rise, this genre will become more popular.
"When the United States became a world power, science fiction became popular. Before that, the United Kingdom dominated the whole world. That was a golden time for British science fiction. When the Soviets became a power confronting the US, that was a golden time for Soviet science fiction.
"Even Japan in the 1970s had a lot of very good science fiction at that time. China is now at that junction, maybe."
However, Chinese science fiction's focus on Chinese culture and the future of the nation does not imply that it is jingoistically nationalist. According to Wu Yan, professor of humanities at Southern University of Science and Technology in Shenzhen, Guangdong province, "Liu Cixin's idea is very, very Chinese. In the future, problems are solved. The Earth will be united as one. It is a kind of ancient Chinese thinking about 'under Heaven.' It's like the Chinese view of the world in imperial times that derives from Confucianism. Confucius has four stages of development - cultivate yourself, manage your family, administer your country, make all under Heaven united."
Wu notes that sci-fi is used to promote both science and cultural industries. "In the new century, the country began to think about changing China into a creative country. They want to enrich the creative industry. They want to enrich a new kind of science. We want to compete with the United States of America by making science more advanced. The government is thinking about that. They think science fiction loves and understands science and also makes the Chinese creative industry grow."
Change in culture
Han Song says science fiction is now leaving its roots as a way to popularize science and gives deep insights into China's culture and current life. "Although science fiction has a history of over 100 years in China, over the past 20 years it has gradually become a new way to express some ideas or thoughts about what is happening in Chinese society, not only about the universe or technology. It deals with what the change in Chinese culture is about.
"The earlier conception was that science fiction was a tool for spreading scientific knowledge and spreading innovation. Science fiction is a popular literature, but now it is become more and more a serious literature in China, touching on some quite sensitive issues in society. It has been turned into a completely new genre," he says.
Similarly, Wu Yan sees science fiction as a way to explore philosophy: "Arthur C. Clarke's 2001: A Space Odyssey, Rendezvous with Rama and The Fountains of Paradise had been translated. We were very shocked that it is not only talking about science. Before, we were thinking science fiction talked about science, but we found it is not only science, but also philosophy and religion. All of this came as a shock. My generation born in the 1960s paid very, very great respect to Arthur C. Clarke."
Three women in the field especially focus on how ordinary people's lives are changing in China.
Xia Jia says, "Many science fiction works focus on interplanetary relations and the science of the distant future, but my works look at ordinary people's lives. What I'm trying to do is to imagine the near future of ordinary Chinese people's lives, which is also a way to reflect how we feel about the current time. So you can see that some of my stories happen in a Chinese core family with the parents, child, old people. Their relationships are changed by the technological revolution. I also want to explore the positive side of this change, not just the dark side. For example, I want to try to explore how ordinary people can use these technologies to rebuild their relationships, to keep their traditional feelings and values during this process." Hao Jingfang, who received a PhD in economics from Tsinghua University and is now deputy director of a macroeconomics research department at the China Development Research Foundation, won a 2016 Hugo Award for her novelette Folding Beijing, which deals with the inequality that has developed during rapid growth.
"I myself am interested in people's hearts, what people are thinking about. What are the differences between people in everyday life. I really like to study these kinds of details of people. So I always write some scenarios not really far away from life. Perhaps in the future, I will try to write about some far away universal empire or something like that," Hao says.
Ji Shaoting, founder and CEO of the Beijing-based company Future Affairs Administration, says the current situation of rapid change has created China's new science fiction.
"The background of the golden age of science fiction in America was the fast-developing science. So, right now in China, science and technology is developing so fast that it changes people's lives every day. You can pay by your phone, you don't need money at all. And, you can ride bicycles everywhere and you can call people to fetch your food," Ji says.
"People can feel that our country is launching into the stars and they focus on that. Now China is developing so fast that we can actually feel the impact of science and technology. Science fiction is about the relationship between people and science. Right now, if science fiction is developing fast, that means people are thinking about that," Ji says.
"I always tell my colleagues and investors, and also science fiction fans, that if the golden age can come back, it will probably be in China," she says.
Yan Dongjie contributed to this story.
davidblair@chinadaily.com.cn