Crude imports to increase 7.7%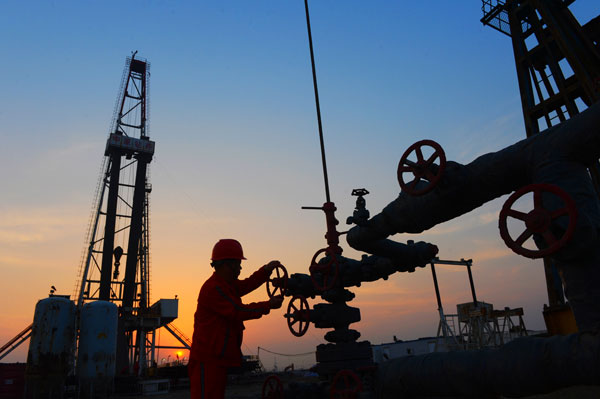 Imports are expected to make up more than 70 percent of China's crude oil supply in 2018 amid sound economic growth, said a research arm of State-owned energy giant China National Petroleum Corp on Tuesday.
The country's net crude oil imports will rise 7.7 percent to 451 million metric tons in 2018, accounting for 70.1 percent of China's total supply, according to a report released by CNPC Economics & Technology Research Institute.
Oil imports in the world's largest energy consumer rose 10.8 percent to 396 million tons last year, meaning China overtook the United States to become the world's largest oil importer. The country relied on imports for 67.4 percent of its oil supply last year.
China's oil demand is expected to increase 4.6 percent year-on-year to 615 million tons in 2018. The country's oil consumption increased 5.9 percent annually to 590 million tons last year, the highest figure since 2011, said the report.
The report forecast that the country's natural gas demand would rise 10 percent year-on-year to 258.7 billion cubic meters in 2018.
Domestic output of natural gas is expected to rise 8.8 percent to 160.6 billion cu m, while imports will increase 13.4 percent to 105 billion cu m in 2018, accounting for more than 40 percent of the country's natural gas supply.
China consumed 235.2 billion cu m of natural gas in 2017, up 17 percent year-on-year, the report said.
The country faced a natural gas supply crunch last December, due to plans to convert millions of households to gas or electric heating, from coal energy sources, in the battle against airborne pollution.
Han Xiaoping, chief information officer of China Energy Net Consulting, said there are many risks from a high dependence on foreign oil and gas, and the recent gas supply shortage is a good example. He said more distributed gas storage infrastructure, especially underground gas storage tanks, should be built to prevent future gas shortages.
Further reforms in these two sectors are needed to boost domestic production, according to Lin Boqiang, a senior energy professor at Xiamen University.
"More private investment should be allowed in the development and exploration of oil and gas to safeguard the country's energy security and meet people's needs," Lin said.
Both experts noted that China's oil and gas sector is dominated by three State-owned heavyweights: China National Petroleum Corp, China Petrochemical Corp and China National Offshore Oil Corp.
Last May, a reform guideline on the country's oil and gas industry was approved by the Communist Party of China Central Committee and the State Council, China's cabinet, to give competitive firms, whether State-owned or private, easier market access in these two sectors.