Debut for first French panda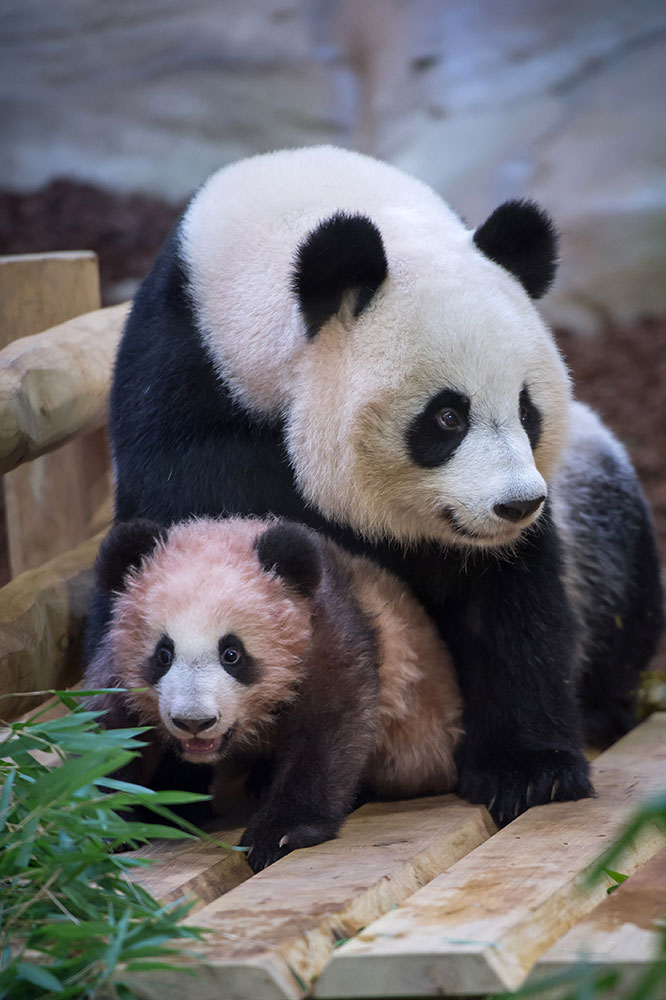 SAINT-AIGNAN, France - Five-month-old Yuan Meng, the first giant panda cub born in France, made his public debut on Saturday at Beauval Zoo.
The panda, which was born on Aug 4, appeared alongside his mother Huan Huan behind a glass wall in their lavish home adorned with Chinese lanterns and rockeries, amid cheers.
BFM TV video showed him playing and endlessly crawling over his mother, who at one point gathered the black-and-white ball of fur to her side before he escaped again to climb over her.
"We got up at 3 in the morning. My son absolutely wanted to see the cub," said one zoo visitor who had traveled from the Paris region.
"We felt we took part in a historic moment. It was very moving."
The name "Yuan Meng", meaning "the realization of a dream" in Chinese, was given to the baby panda in December at a ceremony attended by its "godmother", France's first lady Brigitte Macron.
A large group of fans were attracted to the zoo to get a first glimpse of the cub. Hundreds of people were seen queuing at the entrance around 9 am, an hour before the zoo opened.
Challenging process
Delphine Delord, chief of communication at the zoo, took the opportunity to brief the first visitors on the challenging reproduction process of pandas, and the protection of the endangered animals.
"We have been trying artificial insemination for years, and the birth of Yuan Meng was a success in the protection of pandas," Delord said.
Yuan Meng has grown from only 142 grams at birth to 11 kilograms over the past months, and is doing very well physically, she added.
Two Chinese zookeepers are currently staying in Beauval in central France to train their local colleagues on how to take care of the panda.
Zoo veterinarian Baptiste Mulot said the cub had been brought to the enclosure over the past 10 days to familiarize himself with the surroundings.
The parents of Yuan Meng, Huan Huan and Yuan Zi, arrived in France in January 2012 on a 10-year loan from China.
Since the couple's arrival, the number of visitors to Beauval Zoo has doubled, and is expected to have reached 1.5 million in 2017, Delord said.
"With the debut of Yuan Meng, we expect more visitors in 2018," she said.
There are fewer than 2,000 pandas living in the wild, while around 400 live in captivity, according to China's State Forestry Administration.
Xinhua - Ap - Afp