Xi honors UK professor with top science award
Share - WeChat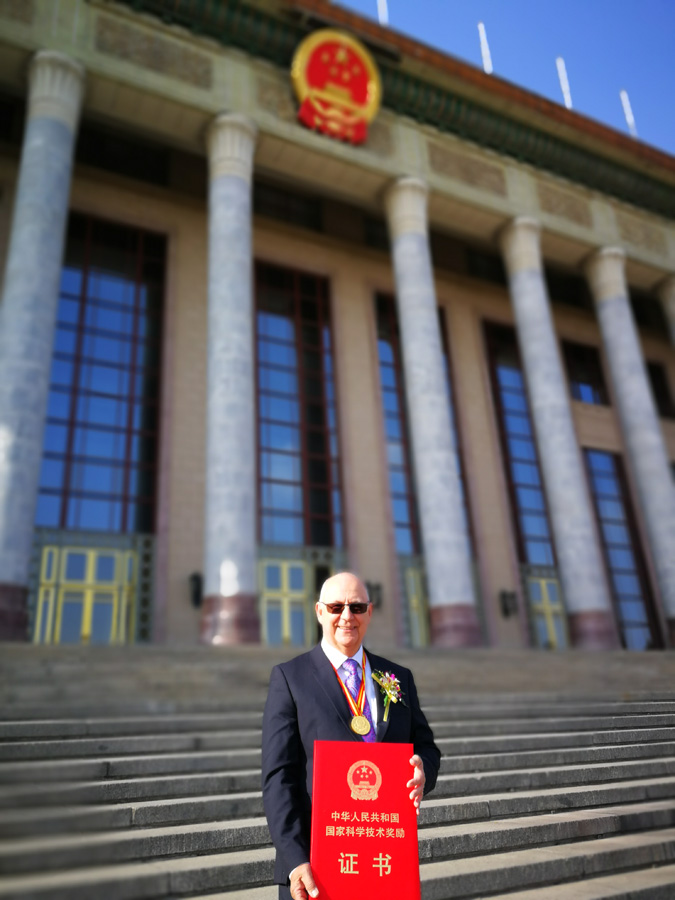 A professor at the University of Bradford in the English county of West Yorkshire has been recognized with China's highest award for a foreign scientist.
Phil Coates, a professor of polymer engineering, received the 2017 International Science and Technology Cooperation Award from President Xi Jinping during a ceremony at the Great Hall of the People.
Coates said it was a "tremendous honor" to receive the award.
"This is really an award for our research community, including our great team in Bradford and our partners in China," he said.
The award, which was first presented in 1984, is part of China's State Science and Technology Prizes, which are the top level of honors in China for science and technology. They recognize citizens and organizations that have made significant contributions to scientific and technological progress.
The Chinese embassy in London put Coates forward for the award in recognition of more than a decade of strategic collaborations with leading Chinese researchers in the area of advanced materials, particularly those applied to healthcare technologies.
The work is part of the Science Bridges China program, an international research platform related to advanced materials used within the healthcare sector. The program brings together scientists, companies, and hospitals from China and the UK, to develop projects in drug discovery, drug delivery, and medical technology.
Coates praised China's clear vision, great passion and drive to invest in science and technology.
"They value science and technology and innovation, and see it as vital to their economic progress," he said. "This award encourages me to continue to drive the growth of our research collaboration, encourage UK-China cooperation and funding alignment, and continue to promote UK-China early career researcher exchanges."
The ceremony this week honored 271 projects and nine scientists with national prizes. Two Chinese scientists – explosives expert Wang Zeshan and virologist Hou Yunde – won China's top science awards.
Addressing the ceremony, the Chinese Premier Li Keqiang said he expects enterprises to be the "main players" in technological innovation and noted leading personnel in innovation should have a greater say in resource allocation and decision-making in research.
"Concrete efforts should be made to ensure that those with merit and contributions gain respect and benefits," Li said. He called for China's strength in science and technology to be built up, and urged increasing basic scientific research, diversifying investment in research and development, boosted integration of basic and applied sciences and enhanced innovative ability.