Chinese interest in UK property market to stay strong in 2018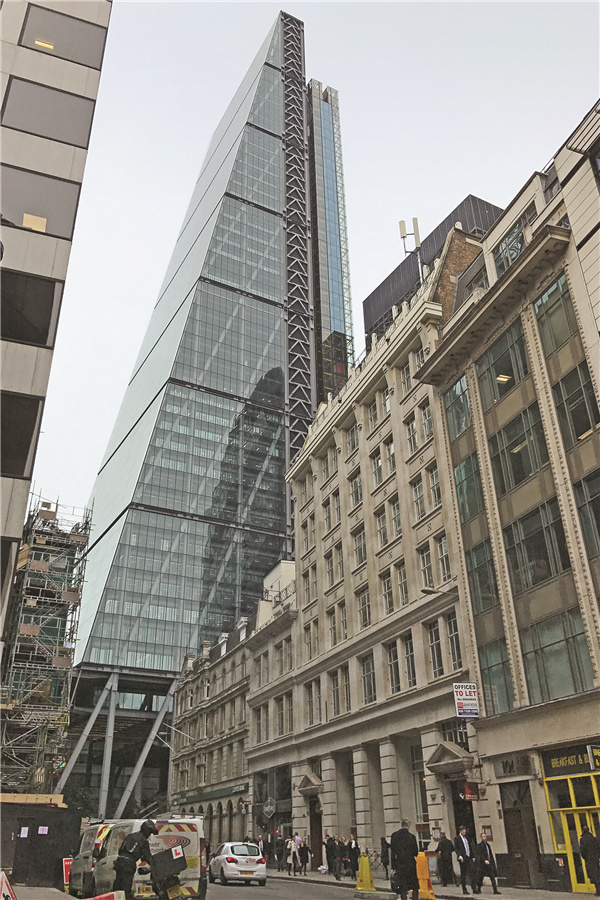 Chinese investors are expected to remain active in the UK's real estate market in 2018 after massive commercial property investments last year.
In spite of gloomy predictions following the United Kingdom's decision to leave the European Union, investors from China "have taken the lion's share of all commercial property investment in Central London in the last 12 months", according to real estate company Savills.
Buyers from Hong Kong were the biggest investors in London in the first quarter of 2017. The Leadenhall Building, also known as the Cheesegrater, sold for 1.15 billion pounds. And 20 Fenchurch Street, known as the Walkie Talkie, sold for 1.3 billion pounds.
"London remains the most liquid real estate market in the world," said Stephen Down, head of the Central London investment team at Savills. "We expect Asian investors, many of whom are looking to diversify capital and preserve wealth outside of their domestic markets, will continue to target the relative safe haven of the UK."
Down said an average of three new Asian investors arrive in London every week looking to invest. They are mainly from Hong Kong but several are from the Chinese mainland as well as the Middle East, South Korea, and Japan.
Several factors attract the investment, including a fall in the value of sterling after the Brexit decision, making property cheaper for foreign investors. Other factors include market transparency, high-quality stock, long leases, and rising rents. But Down said investors are increasingly selective, something that heightened after the UK government's announcement that a capital gains tax will be levied on foreign buyers of commercial property.
Down noted the tax will not be introduced until 2019 and said some investors will be exempt.
Meanwhile, real estate consultancy Knight Frank said in its Active Capital report for 2017 that "China has quickly become one of the most important sources of global capital" and "while some Chinese investors may find it difficult to obtain foreign exchange clearance for now, those that can … will maintain a steady flow". It noted that London was the world's most active real estate investment market for overseas investors in 2017.
"We expect that pricing will remain firm into 2018 with London offices' safe haven status still playing a key role in the rationale for overseas investment … outweighing the ongoing short-term concerns over Brexit," said Anthony Duggan, head of capital markets research at Knight Frank."Our forecasts suggest the short-lived decline in Central London rents is largely behind us – supply is becoming increasingly limited, and occupier demand remains robust."
Nick Braybrook, head of city investment at Knight Frank, said: "The prime market is still strong with lots of Chinese money still targeting London."