Cross-sea bridge to finalize toll plan
By He Shusi, Miriam Zhang and Luis Liu in Zhuhai, Guangdong | China Daily | Updated: 2017-12-22 09:52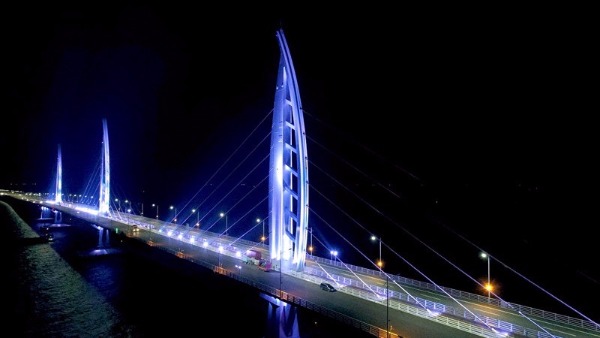 A plan to set the toll for the soon-to-open Hong Kong-Zhuhai-Macao Bridge - at 150 yuan ($23) for private cars and 200 yuan for cross-border coaches - had the support of nearly all participants at a public hearing in Zhuhai, Guangdong province, on Thursday.
The Guangdong Provincial Development and Reform Commission said it will submit the opinions raised during the hearing to the provincial government.
According to the bridge operator, HZMB Authority, the final process will take about a month.
The meeting gathered 22 representatives of logistics and bus companies, the bridge operator, government departments and academics.
Most participants said the government should cover more of the costs of the cross-border coaches to benefit the people and economy of Hong Kong, Zhuhai and Macao, as the bridge is a public infrastructure project.
Some suggested that a lower toll, especially at the beginning, might attract more traffic and encourage full use of the bridge.
The charge for shuttle buses running between the three ports was set at 450 yuan per vehicle per trip.
Chan Iat, representative of Sociedade de Transportes Colectivos de Macau, a public bus company in Macao, said it would be acceptable if the government could lower the toll per shuttle to 300 yuan. He thought Macao residents would be happy to use the shuttles at a reasonable price for a trip to the Hong Kong International Airport.
Stanley Tandon Lal Chiang, chairman of the Lok Ma Chau China-Hong Kong Freight Association, said he believed the official estimate for traffic volume was too conservative, and hoped the commission would consider a review after the bridge begins operating.
Su Yi, finance department manager from the HZMB Authority, said the tolls were reasonable and competitive with other options, such as the ferry and driving through Humen Bridge which connects both sides of the Pearl River.
Kou Kun-pang, president of the Chartered Institute of Logistics and Transport in Macao, said the proposal is based on several factors including the capacity of the bridge, the estimated number of vehicles, and the price of other transportation options in the area.
High prices could squeeze out bus services and damage competition, he said. The proposed prices are acceptable for travelers while encouraging companies to deliver high-quality services.
To make better use of the bridge, he suggested considering the establishment of more ways for the three cities to get travelers to and from different destinations.
Contact the writers at heshusi@chinadailyhk.com